If you are just starting to teach your toddler or small child how to ride a bike, a balance bike could be a very beneficial investment. For those who may not know what a balance bike is, a balance bike is usually much smaller than an average bike and usually has only two wheels and no pedals. However, these rules are not set in stone and varies between the bikes and their manufacturers. Balance bikes can be used to teach a child as young as 18 months how to balance properly on the two wheels.
Balance bikes are meant to be a replacement for tricycles and training wheels. Therefore, the bikes are specifically tailor designed to the ages of the children that the bikes are meant for. This would explain the smaller size of these types of bikes. Despite the differences, balance bikes do ride like normal bikes and they don't get stuck on uneven surfaces. They can also easily glide over rocks and dirt.
Once the balance bike is mastered, a child as young as 3 can transfer the skills they have learned to that of a normal bike. With any luck, little parental assistance is needed. But why go for a wooden balance bike instead of the traditional ones made of metal?
Wooden bikes are actually much more environmentally safe and the higher-end wooden frames can last for many years when properly taken care of. However, cheaper wooden bikes tend to fall apart much faster. Though the wooden balance bikes aren't as adjustable as their metal counterparts, the environment-friendly aspect is a definite plus. Some companies have included more customizable aspects to their bikes, as you will see on this list]. If you decide to go the wooden balance bike route, you should definitely invest in a good one. When well taken care of, your wooden bike will last.
The 10 Best Wooden Balance Bikes:
Take a look at our top ten picks below to see what we think are some of the best wooden balance bikes that are currently available on the market.
The ZÜM CX Wooden Balance Bike is a great value for those that want a top quality wooden balance bike without breaking the bank. The ZÜM CX is made from 100% clear top grade Birchwood and are built to last for years. Balance bikes designed by ZUM have no pedals and no training wheels. They are perfect for helping the child develop coordination and balance. The skills learned on the ZÜM CX Wooden Balance Bike will have no problem transferring to a traditional bike, once the time is right. This bike is primarily geared towards children ages 2-6.
The 100% clear top grade Birchwood is ideal for an environment friendly frame and the patented steering wheel is specifically designed to ensure that there are no jack knife types of accidents. This is great news for parents that worry about safety. The handlebars are made with rubber handgrips in order to protect your child from getting any scrapes on their little hands. Sealed cartridge bearings are used for silent and smooth running wheels. The wheels themselves are made from rubber air inflated tires which also contributes to a smoother ride. But what really sets the ZÜM CX apart from other wooden balance bikes is the adjustable seat.
As mentioned in the introduction, most balance bikes made out of wood aren't as adjustable as the ones made of metal. Most companies that specialize in wooden balance bikes have remedied this issue, as most, if not all of the bikes on this list are adjustable. The ZÜM CX's seat adjusts from 12 inches in a low position to 17 inches in a high position. The seat is also padded with vinyl for maximum comfort for your little one. In addition to the seat being adjustable, the frame is also reversible in order to accommodate smaller riders. For more customizable information, here is a YouTube video on the subject.
This particular balance bike comes in a flashy red and white design and has a non-toxic lacquer finish. Tools are included to ensure easy assembly. Be warned that the weight limit on this bike should be no more than 50 pounds. For more information on this bike and other ZUM bikes you can visit ZUM's official site here.
Available at Amazon.com.
What sets the Hape Scoot Around Kid's Wooden Ride On Balance Bike apart from other wooden balance bikes is that it actually comes with four wheels. Most balance bikes only come with two wheels in order to teach the new rider how to properly balance themselves. However, this particular model was designed with much younger riders in mind. To be more specific, those toddlers who are just beginning to test their mobility and develop active motor skills would benefit from this bike.
The Hape Scoot Around Kid's Wooden Ride On Balance Bike promotes learning balance and your child using their feet to move. The benefit to this is that your toddler is building muscle strength while having fun. Not to mention, your child will get a boost of confidence by being mobile without assistance.
By now you may be thinking about the safety of your floors at home. Hape has thought of that in advance. The wheels on the Hape Scoot Around Kid's Wooden Ride On Balance Bike are rubberized which ensures no scuffed up floors. Your child is covered for hassle free riding! Of course, since this is a bike for younger riders, I would advise again using it outside. This balance bike wasn't meant for rough terrain and was built for indoor use.
This bike is recommended for children from ages 1-3. The bike is made from child safe materials and has a non-toxic finish in a popping fun shade of green. However, Hape warns parents that there are small parts that could become choking hazards. Please do not leave your child unattended. For a quick overview of this bike click here.
Available at Amazon.com
The Diggin Active Skuut Wooden Balance Bike in red is a winner! The bike won the Oppenheim Gold Seal, Creative Top Toy of the Year, and numerous other awards. That is quite impressive for a little toy bike and certainly makes this one a contender. What may even be more impressive than the awards is the fact that Diggin (actual company name) plants a tree for every bike of this model sold! It is something to be admired when a big company cares about the environment.
The way the Diggin Active Skuut Wooden Balance Bike works is that kids should kick themselves off of the ground (as if running) in order to move the bike. This method of "skuuting" is perfect for learning balance, getting the hang of steering, and learning coordination and independence. Similar to other balance bikes, the Diggin Active Skuut Wooden Balance Bike has no training wheels or pedals. Your child should have no problem transferring the skills learned on the Diggin to a traditional bike when the time is right.
The Diggin Company also boasts that the bike is easy to assemble and adjust. The seat can be adjusted at the lowest at 13 inches and the highest is 16.5 inches. Like the previously mentioned ZUM model, the Diggin Active Skuut Wooden Balance Bike is made with 100% Birchwood and is finished with a non-toxic lacquer. Its tires are made with pneumatic rubber and the seat is made from vinyl.
The Diggin Active Skuut Wooden Balance Bike is suggested for children ages 2-5 and its maximum weight limit is 75 pounds. You can also purchase this bike for your child in blue or green. Finally, in addition to the awards already mentioned this bike has also won Dr. Toy's 10 Best Active Products, The National Parenting Center Seal of Approval, The Toy Man Award of Excellence, and education.com A+ Award. For a fun look at this bike click here.
Available at Amazon.com.
The Kinderfeets Chalkboard Wooden Balance Bike, Classic Kids Training No Pedal Balance Bike is one of the more pricey bikes on our list. This is due to the bike's high quality manufacturing and more customizable options. The bike is hand made from Birchwood and has EVA airless tires, and an adjustable, cushioned seat. The seat is also washable. Unlike some of the other balance bikes on this list, the Kindereets Chalkboard Wooden Balance Bike comes with foot pegs. This is to prepare your child for pedals in the future and to ensure smooth cruising.
Being made from Birchwood, this bike is very environmentally friendly and it is also ergonomically designed to encourage good posture, while still maintaining maximum comfort. That fact may seal the deal with parents, but what the kids will really love is just how customizable this bike really is. The Kindereets Chalkboard Wooden Balance Bike's finish is made with a chalkboard finish. This means that the kids can draw designs on their bike! Your order even comes with a box of chalk! Your child can create a new design with every ride!
The Kinderfeets Chalkboard Wooden Balance Bike is recommended for children ages 2 years and older. The bike was designed by a Dutch designer in California. He originally made this bike for his son because his son's "dream bike" was not available in any store. Though his son is all grown up now, he credits his father's balance bike with helping him to learn the skills needed in order to ride a regular bike.
The Kinderfeets Chalboard Wooden Balance Bike is also certified by the Forest Stewardship Council and is an award-winning balance bike. For every bike sold, the company promises to plant a tree as well. The Kinderfeets Chalkboard Wooden Balance Bike is available in black, blue, pink, red, black and white, green, and orange. Check out the bike in action here.
Available at Amazon.com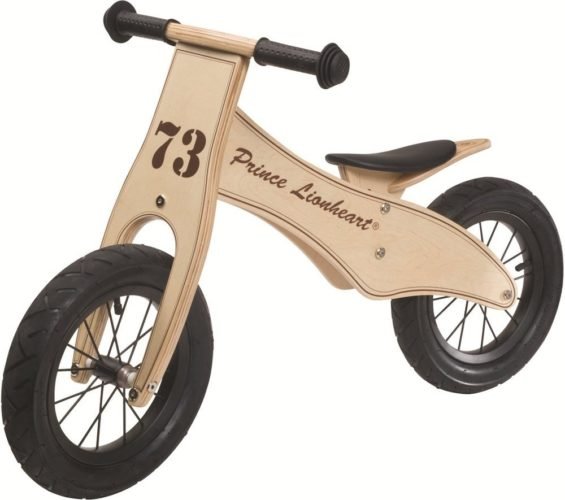 A fancy name for a princely bike! Or princess if your little girl fancies this bike. Here we have another award-winning balance bike that is made from 100% Birchwood. The Prince Lionheart Balance Bike was designed in order to teach your child how to balance. The company believes that balance is a very important skill, especially when it comes to transitioning to a traditional bike. In addition to balance, the bike also boasts to teach your child about steering and coordination. This will come in handy when your child starts physical education in school.
The Prince Lionheart Balance Bike is recommended for children ages 2-5 years and its maximum weight limit is 65 pounds. The bike's seat is padded and highly adjustable, its lowest setting is 14.8 inches and the highest is 17 inches. The handle grips are made from solid rubber and the tires are air filled. Some adult assembly is required when putting the bike together.
The Prince Lionheart Balance Bike guarantees that your child will gain a sense of independence and self-confidence as they transition from the Prince Lionheart to a traditional bike. Here is a customer review video of the bike.
Available at Amazon.com.
Here is our second entry from Kinderfeets. The company has such a cute name too. This model dubbed the "Tiny Tot" boasts being safe enough for one-year-olds to ride. This is more than likely possible due to the Tiny Tot having three wheels instead of two. This enables the younger child to easily start learning how to move their feet. Once they have mastered three wheels, the bike can easily be converted to two wheels. No need for you to purchase a new balance bike.
The Kinderfeets Tiny Tot Wooden Balance Bike comes equipped with airless tires, an adjustable, seat (that is cushioned and washable), and non-toxic hand grips. The Tiny Tot also has foot pegs to help children prepare for having pedals in the future. The Tiny Tot is currently the smallest 2-in-1 balance bike on the market. The Dutch design has a low, step-through frame which places children's feet closer to the ground, so they feel safer.
Like the previous Kinderfeets entry, the Tiny Tot is also an award winning balance bike. The bike is also patented and crafted with lacquered bamboo wood. For every bike sold a tree is planted in collaboration with Trees for the Future. The Kinderfeets TinyTot Wooden Balance Bike and Tricycle, Convertible No Pedal Balance Trike for Kids and Push Bike is available in a normal color for the bamboo, blue, green, pink, red, and white. See the Tiny Tot in action here.
Available at Amazon.com
Right off the bat, the Wishbone 3 in 1 Original Balance Bike is different from the other bikes on this list just by the materials that it is made from. While it is made from Birchwood like the other balance bikes, the Birchwood is sustainably-harvested and the bike also contains eucalyptus wood. Other environmentally friendly materials used to make this balance bike are non-toxic glues and finishes and recycled packaging. This is a company that really cares for the environment by not cutting any corners.
Another very unique element of the Wishbone balance bike is that it can actually grow with your little one. The bike can convert to a baby walker, to a push tricycle, a small version of the balance bike, and finally to the larger version of the balance bike. However, a bike this versatile is one of the most expensive bikes on our list. However, think of this bike as an investment. You won't have to purchase any more mobile toys until your child is ready for a traditional bike.
The Wishbone's tires are made of rubber and are air filled. Your order of the Wishbone Balance Bike also comes with an organic canvas drawstring tool bag. This will come in handy when you decide to take the Wishbone on outdoor trips and you might have to pack a bag.
In addition to everything I have already mentioned, the Wishbone 3 in 1 Original Balance Bike exceeds the European, United States, and Australian toy safety standards. That's good news for mom and dad, but did you also know that this bike is a multi-award winner? The Wishbone has claimed the titles of best-in-category – winner of 2009 TIME Magazine Design 100, Dr. Toy Best Green Toy 2011, Dutch Best Baby Toy Award 2009, JPMA Innovation Award 2009, and Babble.com Best Kids Bike 2011. That is a lot of awards for a single toy.
With all this in mind, Wishbone implores parents to monitor younger tykes on this bike. They are small parts involved that could become choking hazards. Check out some YouTube videos of the Wishbone 3 in 1 Original Balance Bike here.
Available at Amazon.com.
Kinderfeets is certainly a popular brand on this list, however this is our final entry from thus company. The Kinderfeets Retro Wooden Balance Bike is described as "retro" and "natural" probably because it is the oldest looking model on the list. But, don't those tire spokes look rad?
Despite its natural description, the bike is one of the higher priced products on the list. But don't let the name fool you. You can get the bike in other colors besides "wood." Color choices include "Princess" (this has a cool white and red design with a girl, flowers, and hearts), a red, white, and blue United States flag design, "Cupcake" (a brown, pink, and white polka dot design), a red and white rocket design, and a superhero design. With all these cool and unique choices, the "natural" bike is one of the flashiest of the balance bikes. With both boys and girls in mind, the bikes with the designs are also surprisingly cheaper than the regular wooden one.
The Retro is equipped with EVA airless tires, an adjustable cushioned seat that can be washed, foot pedals that help with cruising and preparing your tyke for a regular bike. Another element of the Retro Balance Bike that will make parents happy is that the seat and handlebars were designed in order to encourage good posture. Of course, the manufacturers still keep comfort as an important quality.
As the norm with Kinderfeet bikes, the Retro Balance Bike is patented, award-winning, and with every bike Kinderfeets sells they promise to collaborate with Tress for the Future to plant a tree.
Available at Amazon.com.
This star and checkered number (that also comes in blue and pink) is actually one of the cheaper models on our list. As a reoccurring theme on this list, this balance bike is made with 100% Birchwood and is finished with non-toxic materials. Equipped with 12 inch durable, airless EVA tires, this model is surprisingly light, weighing in at only 8 pounds. The bike also features comfortable rubber grips on the handle.
The Wooden Balance Running Bike promises to naturally teach your child about balance, steering, and coordination. Similar to most balance bikes, this model also promises to be useful to the transition to a regular bike, as well as build self-confidence. There are no pedals which prompts your child to walk or run with the bike by pushing with their feet. Once they gain control, they will be able to lift up their feet and glide. This also helps build muscle strength as well.
This is yet another model that grows with your child by having an adjustable seat. The height grows from 13 inches to 16 inches. The seat is also made with vinyl for maximum comfort. The company promises that this balance bike will be in your family for years to come.
Parents that are worried about safety can also rest easy. The limited steering ratio prevents your tyke from oversteering or turning too sharply. Just remember that the bike has a 60 pound weight limit.
While parents will love the bike's safety features, kids will love the super cool star and stripes design. The bike also comes 95% already assembled! Some adult assembly is required though. The recommended ages are 2-5.
Available at Amazon.com.
The final bike on our list is one of the more modestly priced, The Bikestar model claims to be both lightweight and high quality. The frame is made out of a very sturdy Beech wood. One feature that the company boasts about is the extra-large handle on the frame for easy steering. The paint used on the bike is impact resistant, solvent free, and water-based. The upside is that the bike should resist getting a lot of damage.
Another safety feature of this bike is the certified non-toxic safety 'eco-rubber' steering wheel handgrips. The handgrips are equipped with a device that protects your child's hands. Parents should love that. The extra wide-base promises for driving comfort and a good suspension.
The company that manufactures the Bikestar line also prides itself on having designs that really impress the tykes. However, it doesn't seem like this bike in particular has a lot of design options. Bikestar also has products for bigger riders such as scooters and skateboards.
The company is based in Germany and is one of the largest manufacturers of children's bikes in Europe. Bikestar's customer service promises to always put the customer's needs first.
Available at Amazon.com.
Buying Guide
This may seem trivial to those who don't have children, but parents know that buying any toy for their child is not a matter to sneeze at. Parents want to be sure that the toy is safe and will not cause any accidents. They also want to be sure that the toy will be the best fit for the child and that no money is wasted. To really get your money's worth, the balance bike should be able to last a good while as well.
With all of this in mind, we did go over 10 balance bikes in this article. Than is a lot of information. If you are still feeling overwhelmed after viewing all of these products, here are some tips and tricks that can help you pick out a good balance bike.
Why not a Tricycle or Training Wheels?
Something we haven't discussed is why you should get a balance bike instead of a tricycle with training wheels. A lot of people have probably used training wheels and tricycles when they were small. You probably even did. So, what's the big deal about them? Why are balance bikes considered to be superior?
By now this should be of no surprise to parents, balance bikes are actually much safer than traditional tricycles. How so? The tree wheels make the bike much harder and awkward for little ones to maneuver. They also much easier to tip over on uneven or angled surfaces. Balance bikes are designed in order for the child to focus on balancing. Therefore, they are more prepared for a loss of balance and are less likely to fall. That will make for less scrapped knees and injuries.
But what about training wheels? Some people actually believe that training wheels significantly delay a child's ability and overall desire to learn how to ride a bike. Keep in mind, that balance bikes are designed to teach a child how to ride a bike while balanced. Training wheels are designed to teach a kid how to ride while unbalanced. Bikes with training wheels generally tilt to one side, which creates a false sense of balance.
In order to ride without the training wheels, a child must "unlearn" how to ride unbalanced and learn how to ride while balanced, w3ich is something a balance bike would already teach them how to do. Basically, a balance bike teaches your kid what to expect with a traditional bike. Training wheels "hold your child's hand" so to speak and doesn't really teach them anything.
Size
Size is probably the most important factor to consider when purchasing a balance bike. Tire size and seat height should both be considered when determining the right bike for your child.
Tire Size: Most balance bikes typically have 12 inch tires, while 14″and 16 inch tires are popular for taller kids. 10 inch tires are available for starter balance bikes, however kids outgrow these quite quickly.
Seat Height: The seat height is the most accurate way to tell if the balance bike will fit your child. A child's feet must be able to hit and push off of the ground while they are sitting on the bike. A proper seat height should also allow for a slight bend at the knee. This will allow room for growth.
Weight
The first important thing to know about weight is you don't want the bike to weigh more than 30% of your child's weight. Keep in mind that the more fancy features on a bike, the heavier it may be.
Geometry
Since balance bikes are all about learning to balance and they favor the act of running and gliding, the child will naturally want to lean forward. Therefore, he or she will need the room to do so. Balance bikes that are poorly designed, will limit a child's ability to lean by creating minimal space between the seat and handlebars.
The position of the seat on the frame is also important. A good balance bike has a small gap between the rear tire and the seat when it is set to its lowest position. A poorly made bike has a large gap which makes the bike harder to control.
Tires
The tires will determine the overall smoothness of the ride and whether or not it can hold its own on various surfaces. The five basic types of balance bike tires are air, foam, rubber, plastic, and big apple.
Air: Provides the most cushion and traction. Air tires are widely considered to be the overall best choice. Keep in mind that air tires generally add about 3 to 4 pounds of weight to a bike.
Foam: Foam tires are cheaper, lighter, and will never go flat on you. However, their traction is more limited when compared to air tires. Foam tires also tend to wear much faster. Be prepared to get new tires more often.
Rubber: Like foam tires, rubber tires are also puncture proof. However, rubber tires will provide much more traction than foam tires. You may have a harder time finding rubber tires, since they are less common than foam and air. Considered to be better than foam tires, rubber tires still don't match air tires when it comes to traction.
Plastic: Plastic tires are the lightest of them all and the lowest of quality. They provide no traction and are only suitable for indoor use.
Big Apple: These tires are also known as "Fat Boy" tires. They are described as wide profile air tires that create more traction. These are probably the most expensive out of the bunch.
Brakes
When it comes to riding a balance bike, the main way to stop will always be your child's feet. However, hand brakes can be used to prevent injury and prepare your child for a regular bike. It is stated that around the age of three, a child should have enough hand/eye coordination to use a hand brake. Once they get used to the hand brake, the child will use it in coordination with their feet to safely stop. The skill will not have to be relearned on a regular bike.
Turning Issues
Some balance bike companies put turning limiters on the bike in order to block the handlebar and front wheel from completing a full revolution. This will prevent sharp turns and keeps the brake cable from getting twisted. Some claim that this makes the bike safer, while others say that it prevents kids from learning proper steering techniques.
There are pros and cons to turning limiters, however the overall effect of it on a balance bike is very minor. It is ultimately up to you, the parent, and what you think will be best for your child.
Footrests
As stated before, most balance bikes do not come with footrests. However, some companies include them in order for the new rider to feel safer. Footrests are not really needed on a balance bike at all. But if you insist on having one, make sure that they are designed properly and don't hit the back of the child's calf while riding.
Footrests may be a better option for younger balance bike riders. In fact, most companies that put footrests on their balance bike usually gear that particular bike towards younger riders.
Bearings
The bearings of a bike determine how fast and how smoothly a tire spins around the axle. Sealed bearings have a rubber seal around them that stops water other unwanted materials from getting into the bearings. A bike with sealed bearings will get less friction when spinning. Less friction makes for a smoother ride and allows the child to have to use less force when controlling the bike. However, sealed bearings will result in a higher priced bike. But if a bike has sealed bearings, it will more than likely be a higher quality balance bike.
Grips
Many of the bikes on our list have included special handgrips to prevent scrapped hands. A rubber grip will protect your child from when the handlebar runs into a wall, trees, or anything else encountered on the ride. Be sure that your child's handgrips also has protective bumpers.
Bolts
In time, if the bolts on your bike become exposed they can become scratched and can also scratch your child's legs when riding. This will be very uncomfortable and can even be painful for your child. Covered, rounded, and recessed prevent this from happening. It is a fact that exposed bolts are the most common issues on most balance bikes.
Conclusion
Now that we covered everything from the top balance bikes on the market to the important elements of a good balance bike, we hope that you feel more confident about purchasing one for your child. Wood is the most environmentally friendly of the balance bike frames and is sure to make mom and dad happy about that. Your child can learn to be environmentally conscious at an early age. Not to mention, balance bikes in general are typically considered to be much safer than tricycles and training wheels.
Aside from frame materials, it is important to remember that the height of the bike is a very important element when choosing the right balance bike for your child. The height of the bike will determine whether the bike will fit your child or not. Other important things to take into consideration (besides price) are the make of the tires, the geometry of the bike, and whether or not to go with footrests. No matter what features you choose, many of the bikes on this list are award winning and will be a great investment for your child. With the skills your child will learn from their balance bike, they will be riding a traditional bike in no time.
Parents, when purchasing a balance bike, please keep in mind the needed safety features, the size of the bike, and the overall weight limit of the rider. For more information on balance bikes in general, click here.