Some toys will never disappear from the "top ten toys for kids" list, and wagons are definitely one of them. Every parent can remember the fun they had playing on one as a child, and when their babies start to toddle around the house or pull themselves up, it's only natural to want to buy the best wagons for kids on the market for them.
As with any toy on the market, a responsible parent has to make sure the item they are buying for their child ticks all the right boxes. This is what this guide is here to do.
Radio Flyer is a trusted name in the wagon manufacturing market. This model comes in bright, traditional red with matching canopy. Many buyers consider the Radio Flyer brand as one of the best wagons for kids on the market.
This particular model comes with a canopy included, but the EZ-fold can be purchased without a canopy or without the 3-in-1 capacity. Radio Flyer has many different wagon models, but this one is considered the best by many parents.
Pros
Cons
This make and model is solidly constructed and can carry weights of up to 150 lbs. The fabric used to make the wagon box is 600-denier polyester. The Mac comes with a carry bag included and two handy mesh material cupholders. The most important fact about the Mac Sports-Collapsible though, is that it's a utility wagon and not a toy wagon for kids.
Straight up, the Mac doesn't even try to pass itself off as a kid's toy wagon. Its target market is those who need a utility wagon that is hardy enough to be used to carry medium-weight loads and then folded back away into storage or in the trunk of the car. And that's exactly what the Mac looks like: a utility wagon for shopping items, trips to the park, and maybe even trips to the beach too.
Pros
Cons
Even though the Radio Flyer Ultimate EZ Folding Wagon doesn't change into different shapes like the 3-in-1 model, it still has all the signature features that make the Radio Flyer brand the toy industry standard for all things wagon-related.
The colors of the Ultimate model are picked out in grey, this is a good choice for any parent who doesn't want to wipe down white materials all the time when they show the dirt. The Radio Flyer EZ-Folding Wagon comes with a canopy, folds out into the cutest 2-seater wagon, and is the best kids covered wagon for a day out in the sun.
Pros
Cons
Take one look at the tires on the All-Terrain Radio Flyer wagon in steel and wood, and you know immediately that it can handle any surface you can throw at it. It is utilitarian and rugged, but still with that whimsical Radio Flyer classic coloring and style that will get your kids' imaginations going.
The All-Terrain is one of the longest length wagons on the market with large, chunky wheels. Radio Flyer is a toy company based in Chicago that has been producing kids wagons since 1917, and this heritage brand is synonymous with childhood. The All-Terrain lives up to the Radio Flyer brand with its durability and features. If you want an archetypal kid's wooden wagon, this is the model for you.
Pros
Cons
This Mac Sports model has an ultra-long design which makes it the best choice for families' looking for a wagon with extra space and compact foldability all-in-one.
If you are a fan of the Mac Sports utilitarian look and capabilities, you will already have a good idea about what this durable brand offers over other foldable wagons in its class. The Mac isn't a toy wagon for kids, but don't let this put you off keeping one of these folded up in your trunk for picnics on the beach, or other areas where towing gear is better made in one trip.
Pros
Cons
If you imagine your small child toddling along, pulling a wagon full of toys behind them, the respected wagon company's Radio Flyer Classic Red Wagon is what you will have in your mind's eye. This is the wagon that will look absolutely perfect in the corner of your kid's bedroom full of their favorite toys. It is a distinctive design of the classic wagon for kids, and if you are looking for a real head-turner, this is the model for you.
Why the Radio Flyer Classic Red Wagon is such a head-turner is because it pushes the nostalgia buttons. The chances are that you will be stopped by folks wanting to reminisce if you take the Classic to the park with you, so prepare yourself for lots of admiration.
Pros
Cons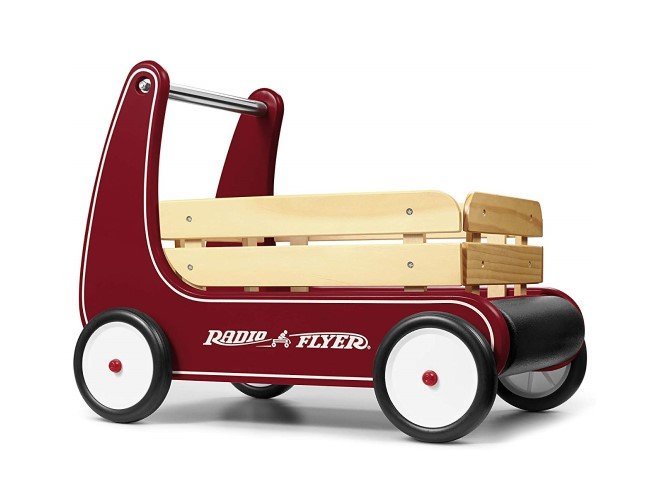 There are many push wagons on the market. They are ideal items for toddlers to push along the carpet in the sitting room, and even great for helping with baby's first steps. How does the Radio Flyer Classic Walker Wagon measure up against the dozens of walker models out there?
Yet another little red wagon from the Radio Flyer Chicago-based factory, but this one is mainly for pushing, not pulling. Even though the Walker is designed to look like a wagon, it is the ideal height for a baby to pull themselves up by using the handle and even take their first tentative steps by leaning forward. The Walker is very well balanced, so there is no danger of the wagon tipping over when there is weight applied to the handle.
Pros
Cons
Radio Flyer has left their classical and traditional wagon designs behind with the Pathfinder. The best thing about the Radio Flyer brand is they are a tried, tested, and trusted company that can be relied upon to cross every "T" and dot every "I" as far as safety and comfort are concerned. With their Pathfinder, they actually won children's toy awards and can boast of winning the National Parents' Center Seal of Approval and Parent's Choice Award.
One look at the Pathfinder's heavy axles, rubber tires, and purpose-made plastic body, in the Radio Flyer signature red color, and you can see that it is ideal for their recommended ages of toddlers one and half years and up.
Pros
Cons
If you want to see the best smile on your kid's face, you should watch them when they open the door to find the Step2 Wagon for 2 in their room. It comes in classic color choices of red and green in addition to blue. The shape and design will make a little child imagine they are in their very own carriage or car. You can choose to add a clip-on canopy at a later date as well.
The Step2 for 2 plus is just right for two pre-school toddlers to play in and around. The door can easily be opened by little hands and the two chairs have seat belts. There is even additional storage space underneath. The Step2can be used in a variety of ways in a family of any number.
Pros
Cons
If you are looking for the best multipurpose collapsible folding wagon for your garden or park picnics, WHITSUNDAY is another great choice. It can handle your picnic food, blanket, toys, and even makes a trip to the beach a breeze. This is a cart with easy maneuverability and effortless transport solutions. Even though the Whitsunday is more of a trolley than a wagon, and definitely isn't for kids to hop in and beg for a ride around the garden, no wagon list would be complete without this durable and sturdy model on it.
Whitsunday is a trusted name for camping, park trips, and carrying around heavy equipment up to 120 lb in weight. Because it makes light work of heavy loads, it saves your back and arms from having to carry awkward items around. Keep this wagon in the garage for pulling heavy loads to and from your car. The adjustable handle ensures any family member can use it without hurting their back bending uncomfortably.
Pros
Cons
Final Thoughts
Some of the best wagons for kids on the market can fit up to two children inside; others are strictly for toys or gear. It doesn't really matter what design a wagon is, a child will be able to find a way to have fun with it, enough to keep them happy for hours.
The most respected kids' toys brands have been in the wagon-making business for over 100 years. They each have a distinct appearance and features. If you choose your kids' wagon carefully, it could become a beloved children's plaything for many years to come.
Wagons don't use batteries, they help develop imaginations, playtime, and responsibility in tidying up. The social skills and outside adaptability mean wagons will remain on Santa's Wish List for at least another 100 years.
---
Wagons for Kids – Toy Safety Checklist
There are more than a few criteria to check before buying a toy for your kids. They should be fun, as well as offering your child a chance to learn a skill or develop dexterity. Sometimes toys are handed down from other households or relatives of the family. These are all good ideas for keeping your kids' minds stimulated, but an unresearched toy could also be hazardous without you realizing it.
Be aware of any potentially dangerous toy in advance, and always keep an eye on what your children are playing with.
Only Buy Toys for the Correct Age Group
Toys are not the same as clothes. You can't buy one and hope the child will grow into it. This is especially important for any child under the age of three years. A lot of research goes into the age appropriateness of nationally produced toys. You should always practice caution when buying toys that have been manufactured in other countries.
Read the Instructions and Warning Labels
You will be able to gauge a toy's age appropriateness from the picture alerts on the box. Warning labels indicate such included items as magnets, sharp edges and points, falling and choking hazards.
Cords and Strings
Long cords, strings, and ribbons must be avoided because of strangulation hazards.
Food Allergies and Toxicity
If the toy involves baking or cooking for kids, be sure your child isn't allergic to any of the ingredients. Crayons, play dough, slime, glitter; any of these can cause allergic reactions or contain unacceptable levels of toxins in cases of deliberate or accidental ingestion.
Volume
Many toys have unacceptable volume and noise levels. Remember that your child will have the toy blasting straight into their ears and aren't tall enough to rise above it the same way an adult can.
Why Wagons for Kids are More than a Toy
Wagons have been a staple family toy for many generations. If the word "wagon" brings images of horse-drawn carts to mind, this couldn't be further from the truth. This classic kids' toy is a cute, little four-wheeled cart that can be used to ride in or carry a small cargo short distances. If your child wants to accompany you to visit someone on the street or pull toys around with them, the kids' wagon is perfect for the job.
Wagons encourage kids to use their imagination. When your child has a wagon they can use indoors or outdoors, they can be anything they want to be inside their minds: A train, a driver, or an ambulance taking toys to the hospital; a little wagon brings a world of transport options from which a child can choose.
Wagon Use for Adults
Buying a wagon for your children is not only beneficial for them. Having a wagon in the home will enable you to transport your kids around in the most enjoyable (and safe) style. They are buckled up on top of the wagon, watching the scenery pass by them from a trusted vantage point, and you can choose the speed at which you want to pull the wagon. There's even room for a small bag of groceries if you want to take your child to the nearby store with you.
If your family has more than one child, a wagon is an even better idea for a toy. It can be an all-access family toy, and the elder child can be taught how to safely pull the younger child around the yard safely. Wagons turn tidying up into a fun game by filling it up with toys laying around and towing them back to the toy box.
Which Wagon will Your Children Enjoy?
With so much choice on the market and a deluge of information out there, it can get to be confusing over which wagon will your child enjoy playing with. Get a clear idea over what options are out there and how they are suitable before being lured by a bright image or store display. It's easy to get confused or misled when faced with all the different wagon models out there.
At the end of this guide, some of the best wagons for kids and toddlers will be compared. You can choose which one is the most suitable, durable, and reliable once you have all the information at your fingertips.
Wagons for Kids Buyers Guide
The most important factor that should influence your decision is the price. Like any family, working within a budget is not just good financial sense but also a great thing to teach your children. There are many wagon models on the market, and they range in price from under $70 all the way up to pass the $300 margin. When you know how much you can afford to spend on buying a wagon for your kid, you can look at the models and features within that price range.
Weight
Not all wagons can handle heavy weights pulled over short to medium-length distances. It's important to check the model you want to buy won't break or buckle due to overloading. You can look at the age group range the wagon had been manufactured for, because the age brackets are correlated to weight.
If your child is larger or taller than the national average (you can find this out from your nearest family healthcare provider), you must buy your kid's wagon in a higher age category. What also should be taken into consideration is for what use is the wagon intended besides pulling your child around the yard and up the road.
Every surface the wagon rolls over will impact the efficiency of the wagon's ability to roll smoothly. If your yard is full of long grass or the cul-de-sac in which you live is cobbled, you will have to buy a wagon specially manufactured for bumps, grass, sand, or tarmac. Wagons are wonderful toys for use indoors and outdoors, and while it might roll perfectly over carpets and wooden floors, ensure the one you buy can handle outdoor surfaces as well.
If your children's age range is wider, say from 2 to 6 years, try to take this into account when buying the wagon.
Design
Some families love the toy designs of yesteryear, and some prefer toys that look futuristic. You are the best judge of what you want your child's wagon to look like, so make sure the wagon design fits in with the rest of your aesthetic. If you are spending more on buying a wagon for your kid, it's essential that they love the way it looks as well. Some of the design choices you can make are:
Classic
Advanced
Futuristic
Foldable
Favorite cartoon character decals
Metal or wooden
Canopied
2-seater
It can take a bit of time to compare each wagon design and decide on a favorite. Keep in mind that the wagon can grow to become a beloved family heirloom if you are planning on buying one in the upper price range, so choose materials that will last longer.
If you have toddlers, it might be better to look at wagon models with higher side panels. This is a handy feature for smaller kids, as they can hold onto the sides. Many wagon models come with seat belts included so there is no chance of toddlers standing or clambering out when the wagon is moving.
A good idea is for you to shortlist your chosen top three wagon models, and then allow your kid to make the final choice between those three. If you are buying the wagon online for a special occasion, check what is the delivery date and then also leave a margin for late deliveries.
Undercarriage
The wagon undercarriage includes metal parts, usually made of steel. If you have ordered your wagon online, it will arrive in a flat pack, and needs to be assembled together using the nuts and bolts found in a plastic packet inside the box. You use these to secure each wheel to the body of the wagon, and this has to be done according to the instructions in order for the wagon to be able to carry its intended weight.
Before buying, you should take a close look at the wagon's specification (or read a buying guide) so you will know what it has the capacity to pull and over which surfaces. If the wagon model you are wanting to buy in your price range doesn't have a metal undercarriage, this will affect the amount of weight in can carry and surfaces on which it can roll.
Body Frame
The wagon frame is comprised of a flatbed and four sides. It's the place where the "passenger" sits and also where you can pile in toys and other items needed for transporting around. The sides of the body frame should be high enough so that items don't fall out and easy enough for any little passenger to hold onto the sides.
When a wagon has a metal undercarriage, this usually means it will have a matching metal or wooden body frame. Some wagon models have adjustable body frame sides, ones that collapse for easy transport, and removable wheels that fold away and make the wagon more compact for storage.
Handle
One of the more identifiable features of a kids' wagon is the handle. Some are plastic and others are made from steel. They can be folded back under the wagon body frame, which will save others from tripping over it.
If you plan on spending a lot of time pulling your child around behind you, it's important to make sure the wagon handle is long enough for you to hold comfortably without bending down. It might seem like no big deal to have a short handle on the wagon for the first few minutes, but consider a ten-minute walk to the store bending and pulling, and you will realize why long handles are a better idea.
If you have an independent child who is more likely to be controlling the wagon themselves, a wagon with a short handle might be a better idea. Shorter handles maneuver better in tight spaces. A surefire way of getting the length you like is to choose a model with an adjustable or telescopic handle.
If the wagon model is wood or steel, the handle must be attached to the axle, not the body frame. Handles on axles turn the front wheels and make it easier to control the wagon.
Safety
Anything with wheels has to be double-checked by the parent to ensure the safety features are operative. Kids wagon manufacturers take product safety very seriously, but this doesn't mean you can skip being protective and cautious. Safety is one thing a parent will never leave up to a stranger.
When your child begins to want to play outside or has access to other people's houses with outside facilities, it's up to you to insist upon the toys and wagon they use has the necessary safety features:
Seatbelts with buckle to ensure the child is strapped in. This protects against falls if the wagon tips over.
The wagon should be equipped with wheels that can be used indoors and outdoors, without damaging the lawn or carpet.
High-quality parts that have been assembled together correctly. When your child is being pulled, it's no time for the wagon to break apart.
Smooth edges and corners.
The handle should be long and never pivot around unexpectedly.
Bumpers and axles are a good feature for your kids' wagon to have.
Wheels
Kids' wagons come with two types of wheels: steel or pneumatic. They both have their pros and cons and go better with different surfaces. It all depends on what you plan to use the wagon. Indoor use requires a lighter wheel made of softer rubber, as these won't scratch floors or drag on carpets.
If your family loves the outdoors and plan on taking the wagon with you for trips to the beach or camping site, a sturdy all-terrain wagon pneumatic wheel is best. They are air-filled and roll lightly over many different surfaces.
When your kids' wagon is mainly used for tarmac or cement roads and sidewalks, then a steel wheel covered with rubber tires is the best choice.
Never let the price of the wagon make you compromise on any of the features mentioned here. If you are tall and plan on taking the wagon to the beach with you, don't let a cheaper price wagon tempt you into settling for one that has a short handle and rubber-covered steel wheels. This will only cause you irritation in the long run when your back hurts and the wagon gets stuck in the sand.
What Type of Materials Are Best for Wagons for Kids?
Metal Wagons
Metal wagons are the archetypal kid's wagon seen in movies and images all over the world. If your family prefers classic toys that are sturdy and hardy, then a metal wagon is for you. They are suitable for all kinds of terrain, except those with heavy snow and rainfall, sea air, or extreme heat. These climates will make a metal wagon rust, as well as being dangerous to a child when the metal becomes too hot or cold.

Metal wagons do dent and the paintwork can scratch, but many families love the patina created by this wear and tear, as it adds to the wagon's character.
Wood Wagons
Wooden wagons are also a classic wagon material. If you live in an area where the climate causes wood to weaken and splinter, you should try and get a wooden wagon model that is weatherproof painted.
Plastic Wagons
Plastic wagon models are very popular for younger children and toddlers. It is the safest material for any climate as it doesn't heat up too much in the sun or freeze and rust in rain and snow. Plastic is lighter than metal or wood, and this makes it more prone to tipping over. However, because of the lack of sharp edges, plastic wagons don't cause injury.

The drawback to buying plastic wagon is they look generic and mass-produced, with a tendency to pronounced wear and tear, especially when used outside. If you don't plan on turning your kid's wagon into a family treasure or using it to transfer heavier items or two passengers, the plastic kids' wagon might be a perfect choice.

If wagon assembly is not something you want to spend your afternoon doing, it also might be best to skip buying a wagon that needs to be put together at home and buy one that has already been assembled.
Our Top Pick!
Radio Flyer 3-In-1 EZ Folding Wagon with Canopy for Kids and Cargo