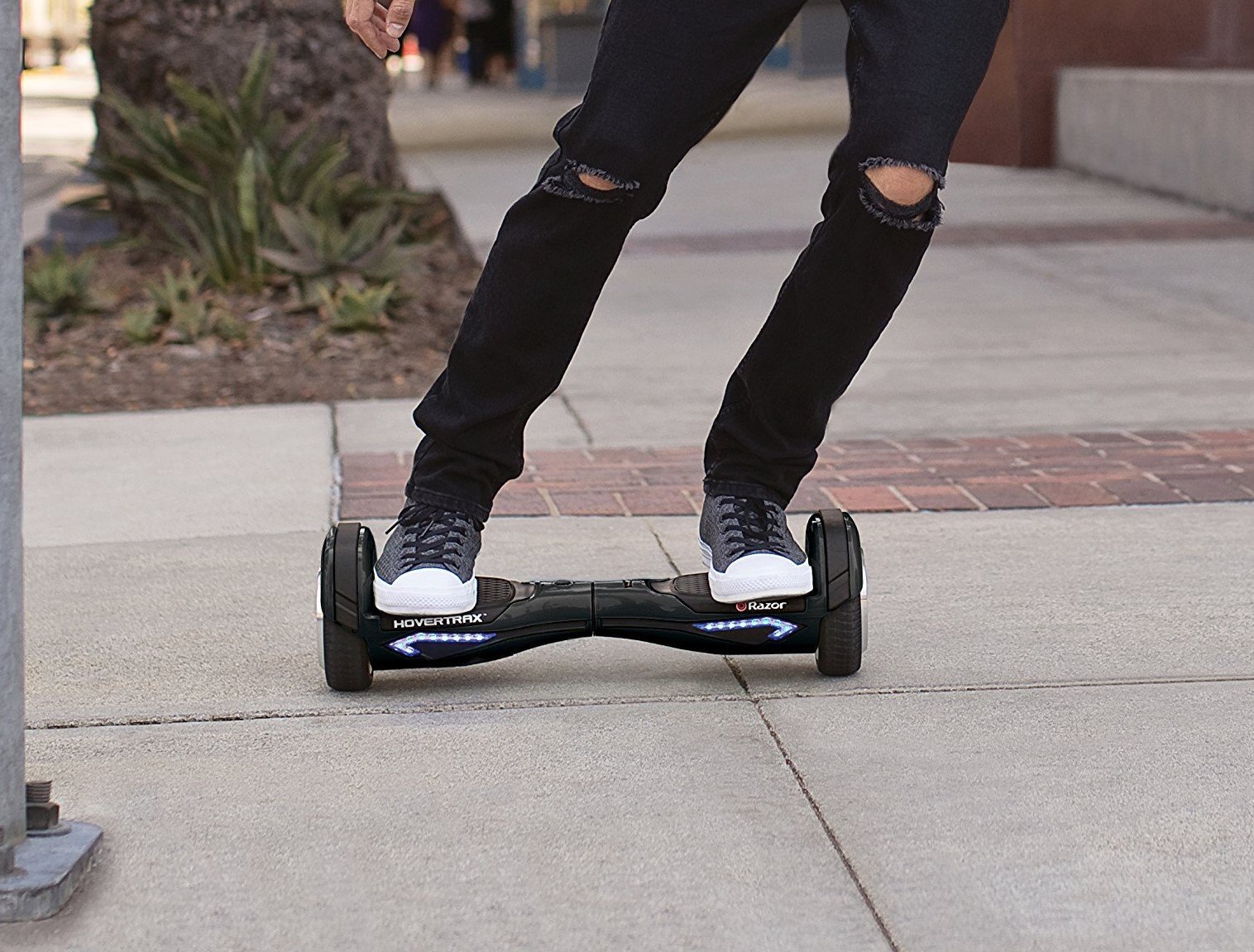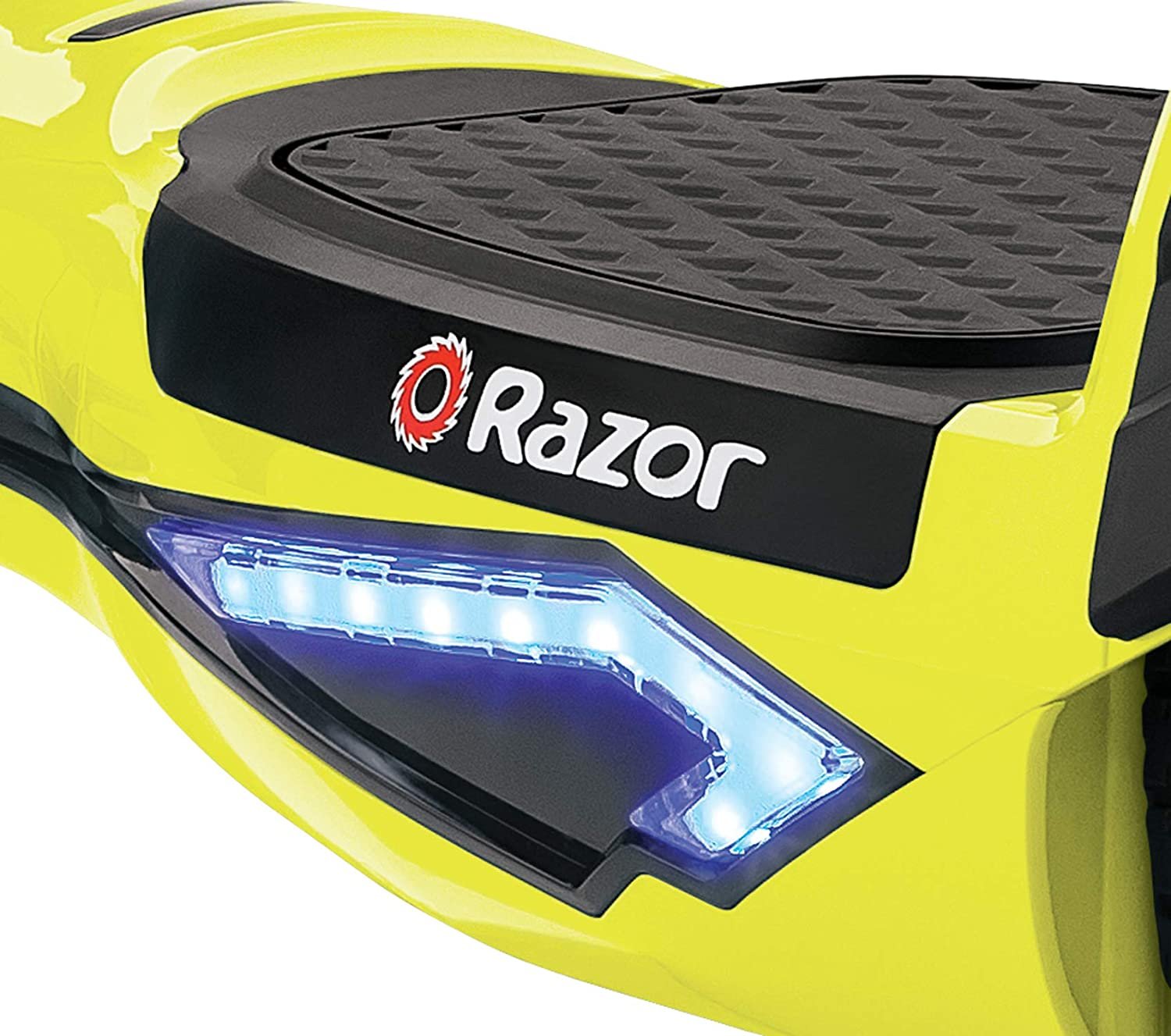 Razor is a well-known respected brand in the United States. They've been around for quite some time now and what usually follows, are products made with excellent quality and good performance. It's not surprising that they were the first hoverboard manufacturer to have their hoverboard UL-certified.
What is UL 2272 certification? Well, it means that the hoverboard has undergone rigorous testing, and meets the highest industry standards to ensure maximum safety. In the past, hoverboards had been known to catch fire, and even explode in some circumstances. However, those days are long gone and Razor has almost perfected its design with this new entry.
If your child has been talking about the Razor Hovertrax 2.0 all day, there's a lot of good reason for the excitement. You see, it's not just another generic hoverboard, the Hovertrax 2.0 is all about performance and durability. Its strong shatter-resistant body and steel frame ensure a hoverboard that will last for years, even under the toughest conditions. Its classic sleek design has fender bumper protection, and LED lights located at the front to illuminate your path.
Even better is the EverBalance technology that automatically levels the board and gives the user the smoothest of rides. Don't worry if your kid is a little clumsy, the Razor Hovertrax 2.0 will have him or her zipping around the neighborhood in no time!
Speed, power and distance
Let's start things off by speaking about the 350-watt dual hub motor, and oh my do these things have some serious power! At top speeds, you're looking at hitting up to 8 mph at a continuous running time of approximately one hour.
You may think to yourself that 8 mph is sort of average considering other hoverboards can reach over 10 mph? Well, the reasoning behind this is the weight limit. You see, Razor is accommodating for all ages with the Hovertrax 2.0. Its supported weight limit is up to 220 pounds, so if you weigh less, the speed will likely increase. In other words, while the board advertises 8 mph, you'll probably go a lot faster based on body mass and the incline of the surface you're racing on.
As a parent, you may be asking yourself if that speed can be limited or restricted in any way? Well, the good news is Razor has included two mode settings (training-mode or normal-use) for the Hovertrax 2.0. This will allow your child to get up to speed safely and adjust to the board before they become a speedster. The nice part about this feature is also longevity. You could get this hoverboard for your 8-year old, and they can grow into the hoverboard with time. Rather have some power to build up to, than the board being too slow for them in a few weeks' time when they've got the hang of it!
Battery life
As previously mentioned, you're looking at about 1-hour riding time when racing the Hovertrax 2.0 at its max speed. However, battery life can certainly be extended based on how you're riding. The 36V lithium-ion battery charges fairly quickly at around 1 to 2 hours, depending on how flat the battery is. If you can't wait that long, you have the option to buy an extra exchangeable battery too.
Yes, that's right, the Hovertrax 2.0 is one of the only hoverboards out right now that have a quick-release setting so you can swap battery packs and continue the fun! Of course, the board can still be charged the traditional way, but it's nice knowing that the option exists should you want to go on extended trips.
It should also be mentioned that the hoverboard has a battery level display LED in the middle of the board. If the battery is full it will glow green, whereas a glowing red light will indicate you'll be running out of power soon. Although the hoverboard is not decked out in RGB LED lighting, Razor has made sure everything has a useful purpose.
Durability
If this will be your first time riding a hoverboard, don't worry, the Hovertrax 2.0 isn't going to break with a few falls! As we mentioned earlier, the Hovertrax 2.0 consists of a steel frame and a shatter-resistant casing. The thick rubber tires also have aluminum hubs protruding from the wheels, which acts to protect the wheels from being punctured. Additionally, the fender is also made from rubber, so knocking into pavements and walls won't be disastrous to the body of the hoverboard.
Design
Moving onto the cosmetics, the Razor Hovertrax 2.0 is available in 7 different colors: yellow, red, blue, green, purple, black, and white. All the colors are vibrant and fun (without being gaudy) and the board retains that sleek high-tech finish. Accompanying your chosen finish are the LED headlights. They're situated at the front of the hoverboard and have a nice 'sports car' shape to them. Situated at the top of the board are also the anti-slip foot pads that keep the rider grounded and in control of their journey. They grip pretty much any type of shoe, but we wouldn't recommend going on the hoverboard barefoot!
Razor Hovertrax 2.0 – Conclusion
The Razor Hovertrax 2.0 says goodbye to the multiple RGB light design and built-in speaker features that we have seen coming out of the hoverboard market recently. In return, it has focused on performance and perfected the actual riding part that all users enjoy. Passing various safety tests, and having a tough build to match, the Hovertrax 2.0 will last for a very long time. If you're looking for a sleek new hoverboard that caters to the whole family, we're sure the Hovertrax 2.0 is just what you're looking for!