Being naturally curious and filled with an adventurous spirit, children often have a million questions about the universe and how things work. A microscope for kids is an excellent way for kids to learn and discover the world as they've never seen it before. From observing the tiny hairs on a spider's legs or the cells in a leaf, introducing kids to microscopy and STEM learning from an early age is highly beneficial to developing their young minds.
Emarth has designed this kid's microscope to include a built-in WF10x and WF25x eyepiece, three high-magnification objective and optical lenses, and a 360 degree rotatable monocular head with five magnification levels. 
We've rounded up some of the best microscopes for kids that are currently available, with useful features and information on each to help you find the most suited one for your family. At the bottom of this article, we've added some helpful information for you, including a guide to additional accessories, what features to look for when buying a microscope for kids, as well how to make your own prepared slides, and some fun ideas of things to look at under a microscope!
Types of Microscopes for Kids
There are two types of microscopes for kids: compound microscopes and stereo microscopes. Some microscopes only offer one type or the other, while others provide dual-functionality and can be both. Are you wondering what a stereo or compound microscope means? We've put together a quick explanation for you below.
Compound Microscopes
A compound microscope is the "classic" looking microscope with its light source positioned at the bottom of the scope, shining light up through the specimen and the eyepiece. Compound microscopes are used with either glass or plastic slides and allow you to view tiny details like cells and fibers. Because of the magnification required to view such fine details, this type of microscope requires high power. A compound microscope can have either one eyepiece (monocular) or two eyepieces (binocular) which are usually easier for younger kids to use.
Stereo Microscopes
A stereo microscope is essentially the reverse of a compound microscope. They positioned your light source at the top, with light shining down onto the specimen. This type of microscope requires less power than compound microscopes, as you don't need as much magnification strength. Stereo microscopes allow you to examine larger specimen samples like rocks, coins, food, etc., in closer detail.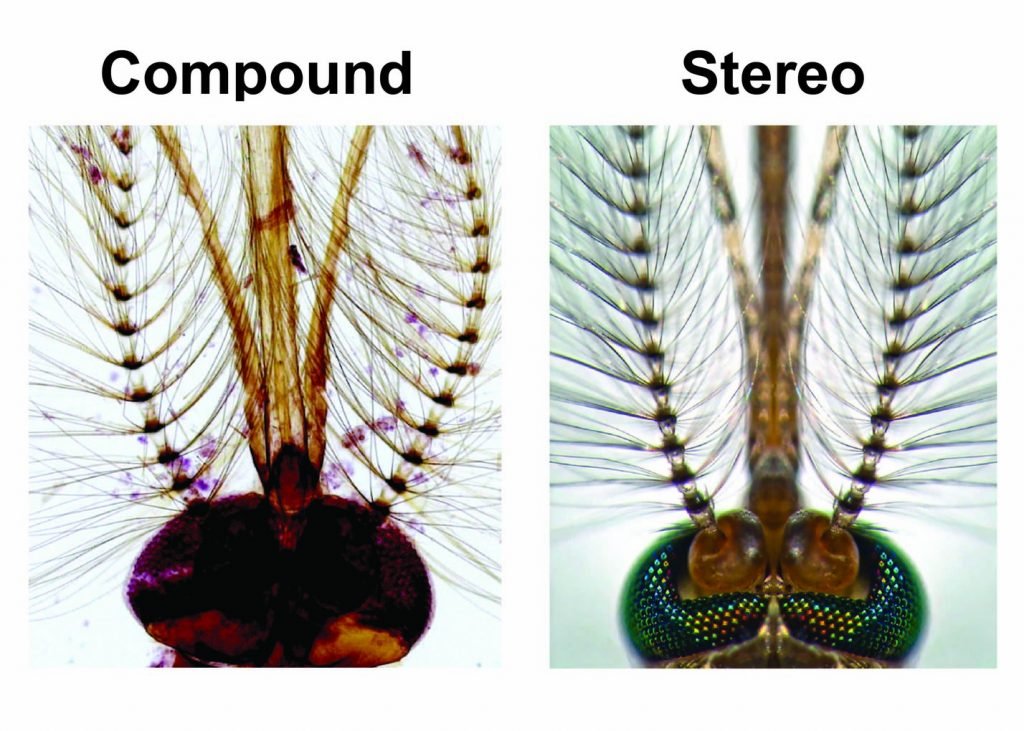 Before Buying, Consider the Child's Age
Before going out and purchasing the most advanced/expensive microscope available, consider the age of the child you're buying it for first. A stereo microscope will be better suited for kindergartners and preschoolers, who will have more interest in viewing larger objects. They won't have the complex understanding required to view cells and fibers or the dexterity and motor control to operate a compound microscope independently.
For kids under 10, a dual-feature microscope may be ideal, allowing them to operate the stereo function independently while using the compound function with parental guidance and supervision. Kids around this age will need help with handling the glass slides, but they'll have a better understanding of what they're viewing when examining cells and fibers. A microscope that offers both stereo and compound helps bridge the gap for kids in this age group.
Of course, for older kids, a compound microscope will be the best option. They'll have a firm foundation on how a microscope works, as well as how to handle the glass slides with care.
A Word On Safety
As mentioned above, many compound microscopes come with glass slides included. It's important always to remember to supervise your children when handling glass slides and make sure that the slides are safely stored away when not in use. Kids who are too young to handle glass items should not be left unsupervised, or they risk causing serious harm to themselves! Be sure to know the basics of treating minor injuries.

The 10 Best Microscopes for Kids
Deciding on our microscope selection was tricky because we as parents don't always see this instrument as something our children can use or see as entertaining as other toys. The most important thing we considered when we chose our product selection was you, our readers. We had a look at our database to understand which products you guys loved and which products had the best feedback from Amazon users.
We had a look at the magnification, the microscope type, and the recommended age of each product. We wanted to make sure that it met your needs and ours. We paid attention to the Amazon review section for each product to ensure it had a majority of positive reviews to make sure the product is truly as good as we believe it is.
Batteries:
3x AA (Excluded)
Emarth has designed this kid's microscope to include a built-in WF10x and WF25x eyepiece, three high-magnification objective and optical lenses, and a 360 degree rotatable monocular head with five magnification levels. The five magnification levels – 40x, 100x, 250x, 400x, and 1000x – provide high-quality optics that improve your children's image quality and sharpness. Your child can look at plants, jewelry, coins, dirt, hair, etc.
The Emarth is a double wireless light compound microscope with the incident and transmitted light sources. This means that you will be able to view both opaque specimens illuminated from above and translucent specimens brightened from below. The bottom light is easily adjustable. You just rotate the wheel until you find a suitable brightness.
Like all microscopes, it has a focus knob that you rotate to produce clear images. This microscope is unique because it has six built-in color filters that help you highlight certain features, proteins, or organisms you are viewing.
The model is made entirely from plastic, except for the objective lens housing, metal. It might not be the sturdiest to withstand scrapes and bumps, but it is a wonderful model to introduce your child to the world of science.
Reasons to Buy the Emarth Microscope
Batteries:
1x AA (Excluded)
Warranty:
Limited lifetime
Something very different from all the other microscopes we've featured. The Carson MicroBrite Plus is a lightweight and compact pocket microscope. Simple and easy to use, children of all ages can use the MicroBrite Plus. They designed it for outdoor use, with the user pointing it directly at a living plant or critter to examine.
Certainly not the most robust microscope on our list, the Carson MicroBrite Plus offers 60x–120x magnification. However, you'll still be able to examine even a thin strand of hair. The precision-molded aspheric lenses mean less distortion and better overall image quality. You can adjust magnification on a sliding dial, while a wide and easy-to-access focus adjustment wheel adjusts the focus.
The Carson MicroBrite Plus features a single LED Illuminator, which requires one AA battery and is not included with the microscope. Designed to be lightweight and compact, the MicroBrite Plus is an excellent alternative for kids to learn about nature without having to disturb or damage the environment by taking a sample to examine.
The position of the LED illuminator is in such a way that you're able to view both flat surfaces, like banknotes or fabric, and 3D objects, like plants and insects. The MicroBrite Plus Pocket Microscope doesn't come with any accessories or slides but does come with a limited lifetime warranty included.
Reasons to Buy the Carson MicroBrite Plus
Illumination:
LED & Mirror
Batteries:
2x AA (Excluded)
The AmScope M30 is an excellent beginner microscope for kids aged 8 to 12 years. This compound microscope comes with a collection of 49 various accessory pieces, along with a hard plastic case for easy storing. It's an excellent STEM learning tool; this kids microscope is ideal for kids graduating from the very basic "kiddie" microscope but not quite ready for a more premium/advanced level microscope.
Along with the basics like blank plastic slides and covers, tweezers, eye dropper, petri dish, and scalpel–the AmScope M30 also comes with a complete shrimp experiment kit for kids to observe and learn about. The AmScope M30 has a metal body and rotating turret for easy viewing, featuring both a battery-operated LED light illuminator and a mirror. Kids have the option between a battery-operated LED illuminator and a mirror for when the batteries run flat. The AmScope M30 only uses a single LED bulb but includes a spare bulb and 2 x AA batteries.
The AmScope M30 microscope for kids provides six different magnification options, including 120x, 240x, 300x, 480x, 600x, and 1200x. There is a built-in color filter wheel to increase contrast and make it easier to view specimen samples. The microscope weighs 2.9 pounds and comes with a 5-year warranty. Colors available include either white with black trim or a full black option.
We recommend adding the AmScope PS25 Prepared Microscope Slide Set to your cart as well. The slides feature a variety of samples, including plants and insects. They made the slides of glass, so be sure to supervise your younger children.
Reasons to Buy the AmScope M30
Batteries:
3x AAA (Excluded)
If you're looking for an introductory microscope for kids aged between 4 and 7 years old, the GeoSafari Jr. Talking Microscope is ideal. The only talking microscope for kindergarteners, the GeoSafari Jr. will get your kids excited for STEM learning and the world of microbiology.
The talking microscope features either fact-mode or quiz-mode, with the voice of Bindi Irwin providing over 100 audio facts and questions. Quiz mode allows kids to engage with the GeoSafari Jr. by answering various nature-related questions. GeoSafari Jr. also has multilingual support, with a choice between English, Spanish, French, or German audio.
The Educational Insights GeoSafari Jr. Talking Microscope comes with 20 plastic slides. With 60 images, each slide features three color images that clip securely into place, allowing kids to view the image easily. Audio facts have been linked to each slide, with kids able to learn about each image while viewing them. There is also a handy storage drawer for kids to store their slides away safely.
Featuring comfortable focus-free dual eyepieces, the GeoSafari Jr. allows for up to 5x magnification of each slide. Three AAA batteries are required and are omitted when purchasing the microscope. Compared to the other microscopes on our list, the Educational Insights GeoSafari Jr. Talking Microscope is far more basic in its features. However, it's a perfect entry to learning about microscopes. It's age-appropriate and ideal for keeping kids entertained at home, without screen time!
Reasons to Buy the Talking Microscope
Microscope Type:
Comp. & Stereo
Batteries:
3x AA (Excluded)
The Duo-Scope Microscope–MFL-06 is an excellent microscope for kids aged nine years and up. Packed with high-quality features, it's suitable for middle-schoolers and even high-school students as well. The prominent feature is the dual illumination feature, making it more versatile than most microscopes for kids currently on the market.
With one LED light source below, suitable for viewing prepared slides, the Duo-Scope MFL-06 also features a second LED light source for viewing solid 3D objects like leaves or insects. The LED lights require three AA batteries, which are not included with the microscope, so be sure to add some to your cart when checking out. The Duo-Scope does not have a mirror illuminator, so batteries are essential.
Unlike many other microscopes for kids with plastic lenses, the My First Lab Duo-Scope Microscope–MFL-06 features glass lenses. The eyepiece allows for 10X magnification, with the objective glass lens providing 40X, 100X, or 400X magnification. Other features include a rotatable head, dual focusing knobs, and a six-hole disc diaphragm.
Included with the microscope is a variety of 50 different accessories, including five plain slides, four prepared slides, a plastic dropper, lens paper, forceps, a plastic test tube, a petri dish, and an instruction manual including guided experiments and more.
Weighing just 2.7 pounds, the Duo-Scope Microscope–MFL-06 is lightweight and easy to carry, making it great for indoor and outdoor use.
Reasons to Buy the My First Lab Microscope
Microscope Type:
Comp. & Stereo
Batteries:
2x AA (Excluded)
The National Geographic Ultimate Dual Microscope features a lower LED illuminator to view slides and specimen samples and an upper light to examine 3D objects in high quality and intricate detail. So the Dual Microscope functions as a compound and a stereomicroscope.
Geared towards kids aged between 8 and 15 years, the Ultimate Dual Microscope includes an assortment of over 50 accessories, including ten prepared slides, ten blank slides, ten slide covers, and covers, tweezers, an eyedropper, petri dish, hatchery, a learning guide booklet, and more. Kids can learn about the life cycle of brine shrimp with the included shrimp eggs and hatchery station. Included is a mini geode crystal for examining under the upper light.
The National Geographic Ultimate Dual Microscope comes with two sets of optical eyepieces (20x and 50x magnification), both made of glass. The ten professionally prepared slides included with the microscope feature specimens ranging from earthworms to muscle tissue to fungi and lichen.
Included with your purchase is a padded carry case for safekeeping and a 2-year warranty. For an additional $20, you also have the option of adding National Geographic's Mega Biology Set, which includes 25 prepared slides.
Reasons to Buy the National Geographic Microscope
Batteries:
3x AA (Excluded)
The Swift National Optical is another of our favorites. It has a 360-degree rotatable monocular head that offers five magnification settings – 40X, 100X, 250X, 400X, and 1000X – with WF 10X and WF 25X eyepieces.
The easy-to-use model has a robust solid metal frame, smooth rotating coarse and fine knobs, and adjustable bulb shade. The stacked design of the coaxial focusing knobs provides a sleek, high-quality look. It also stays true to the model's easy-to-use design. The knobs are stacked to help make the adjustments knobs easy to use and find for your child. The shade allows you to adjust the brightness of the light illuminating the specimen, letting you push light through darker specimens or dim it for clear cells.
The monocular head is inclined at a 45-degree angle to help prevent your child from hurting their neck. It lets your child sit or stand upright when using the microscope, making sharing the model easy because nobody has to readjust the angle or height of the head.
Included are three quantum achromatic objectives at 4X, 10X, and 40X, providing a magnification of up to 1000X that you can use immediately on the prepared slides that come with the microscope.
Reasons to Buy the Swift Microscope
Unlike the traditional microscopes you will see on our list; this one has a screen that displays the magnified image instead of looking through an eyepiece. This sturdy aluminum alloy microscope lets you rotate your screen 90 degrees to prevent any kind of neck strain.
There is the option to connect the microscope to your laptop, allowing you to look at the image on a larger screen. No extra software is needed to view the image on your laptop. If you have Windows, you can use the default app – Windows Camera and Photo Booth for iMac/ Macbook.
With this USB microscope, you can record videos and take pictures with its built-in camera. The microscope has an SD card and comes with a 32GB SD card for you to save your content. The microscope has a 7-inch rotatable FHD screen that works with its 12 megapixels camera and LED lights to produce an ultra-precise 1080P HD real-time image.
The most important thing to remember with this microscope is that it is not a traditional microscope, both in terms of its design and magnification abilities. It is not designed for viewing microorganisms, but you can zoom in on a butterfly wing to see extensive detail like the wing skeleton.
Reasons to Buy the Swift Microscope
Benefits of Microscopes:
Microscopes introduce your children to a whole new world. It opens them up to the world of science and sparks their interest and curiosity in the things unseen. Even if your child doesn't go into the scientific field one day, it is an excellent opportunity to develop their thinking patterns and other skills that can benefit them for the rest of their lives.
A Helpful Guide to Additional Accessories
Many of the microscopes for kids available will have a bundle deal option where you can get all the accessories you need. However, the essential accessories required are plastic or glass slides. Without these, your child will have a hard time viewing anything in their compound microscope. Even microscopes that don't come with full accessory kits will often include at least 1 or 2 slides with the microscope.
However, even if they are included, buying extra slides is always a good idea as glass slides are prone to accidental breaks. Having an extensive collection of prepared slides provides endless hours of fun for children, particularly on rainy days!
Our Recommendations for Extra Accessories:
Features to Look For When Buying a Microscope for Kids
Resolution
A higher magnification ability doesn't mean that the microscope will provide a high-quality image. You'll want to ensure that the resolution will also increase as magnification increases; this will provide detail and quality to your image.
Focus Tuning
A microscope with both coarse and fine focus allows you to achieve the most precise image. The coarse focus lets you get nice and close to the specimen, while the fine focus enables you to adjust the focus slightly to get a crisp, clear image. Having a fine focus is useful when viewing specimen samples at a magnification of 400x or higher.
Illumination Type
Most compound microscopes feature either a built-in LED light source or a reflective mirror, or both. You'll want to ensure that you have batteries available to power the LED light, but they can use the reflective mirror when the batteries run flat. A stereo microscope will have only an LED illuminator, which means batteries are essential.
Adjustability
Most compound microscopes feature either a built-in LED light source or a reflective mirror, or both. You'll want to ensure that you have batteries available to power the LED light, but they can use the reflective mirror when the batteries run flat. A stereo microscope will have only an LED illuminator, which means batteries are essential.
Build Quality
Your options are plastic or metal. If you're looking for a high-quality compound microscope, opt for a metal frame. Microscopes geared towards younger kids and handheld microscopes are designed to be lightweight and portable, so a plastic frame is perfectly acceptable in these cases.
How to Make a Prepared Microscope Slide (DIY)
The method below is known as a wet mount slide. It's the most common method of making prepared slides, and you can use it for all specimen samples, from plant material to food samples. You can also use concave slides if your specimen is too thick for a standard glass slide or if you'd like to prevent your slides from drying out too quickly. For things like feathers, you'll want to skip the water and create a dry mount slide instead.
What You'll Need:
Plain glass slides
Slide covers
An adult to supervise
Utility knife
Water
Q-tip or paper towel
Eyedropper (optional)
Tweezers (optional)
Step 1:
Using your utility knife, slice thin sections of the object you'd like to view. The thinner you make the slice, the easier it will be to view under the microscope.
Step 2:
Next, using an eyedropper, place a drop of water in the center of a blank glass slide. If you don't have an eyedropper, you can use the tip of your finger. Make sure that the water droplet is bigger than the size of your specimen.
Step 3:
Using your tweezers, carefully place your specimen in the drop of water on the glass slide. If you don't have tweezers, just use your fingers.
Step 4:
Carefully place a slide cover over your specimen. If you don't have slide covers, you can also use another blank glass slide as a cover. You'll want to avoid trapping any air bubbles under the slide cover. The best way to do this is by lowering the cover on one side first, allowing it to get wet, before slowly pushing out any air as you place the rest of the cover down over the specimen. A tight seal should form around your specimen.
Step 5:
Using a Q-Tip or the corner of a paper town, gently blot the excess water (if any).
Step 6:
The water should form a seal around the object you want to view. Use the corner of a paper towel to blot up any excess water at the edges of the coverslip.
Step 7:
And that's it! Now you are ready to view your specimens under the microscope! Start with the lowest magnification first and slowly move up to a stronger setting to see more detail. If you find your slide drying out, you can enhance the seal around the specimen by applying a small amount of vaseline with a Q-Tip.
What to Look at Under a Microscope for Kids
Have the kids run out of ideas of things to look at under their microscope? We've got you covered with a helpful list of ideas for both compound and stereo microscopes!
Compound Microscopes
Stereo Microscopes
Emarth has designed this kid's microscope to include a built-in WF10x and WF25x eyepiece, three high-magnification objective and optical lenses, and a 360 degree rotatable monocular head with five magnification levels.