Knowing how to do karaoke at home is a must! Karaoke is a terrific way to liven up any family gathering or party. It's an enjoyable and fun bonding experience for guests and family members of all ages, from grandparents to little kids. Making it one of those activities that are fun for just about everyone, you can bring it out at holiday celebrations, backyard cookouts, or just a casual night at home for everyone to enjoy.
Why Should I Know How to do Karaoke at Home?
If you, a family member, or a friend are self-conscious about getting up in front of an audience but want to join in on the fun. A laid-back friendly gathering where everyone takes turns getting up and belting out their favorite song is a good way to dip a toe into performing in front of others. Or if singing is really not for them, they could follow along to the song with their guitar, piano, or drums.
If you have older kids, karaoke is the perfect activity to bring out for preteen or teenage sleepovers and birthday parties. Preteens and adolescents can be challenging to keep entertained. A group of kids between the ages of 10 and 16 might have varying maturity levels, with some members of the group reluctant to participate in traditional birthday party games. Busting out a karaoke machine and letting the group sing along to their favorite pop stars and old classics is the perfect activity to bring a group together with something they can all enjoy.
An added bonus to knowing how to do karaoke at home is that you can keep your teens entertained at home in a safe environment free from peer pressure or bullies. It's an environment where your kids and their friends can be free to be themselves and act their age without having to worry about what their school peers are saying. 
While there's no official age range for karaoke, it would be easier if participants could read to keep up with the timing and words of the song. But pre-readers can still enjoy singing along if it's a song they already know.
Not Looking for Anything Fancy?
You can rig something up at a much lower cost if you'd prefer to try it out a few times with your family and friends before investing in a karaoke machine. While the lower cost won't detract from the fun, the sound quality might not be as good as the machine. However, if you're short on funds and are looking for a less expensive way to entertain a crowd, this can be a great way to get started.
When setting up your at-home system, you'll need a television with mirroring or Chrome casting capabilities (alternatively, something like Apple TV or Amazon Fire TV could work too), an iOS or Android device, and a microphone. 
Thanks to digital libraries such as YouTube, you can get karaoke versions of just about any song you want, so if you wish to do some rap or country, 80s power ballad, or a pop hit from your youth, you're sure to be able to find something for everyone. Sing King and KaraFun Karaoke are two popular YouTube channels with an impressive catalog – or alternatively, if you think you might use this setup for a while, you can subscribe to an app such as KaraFun Karaoke that offers a consistent sound quality.
Hook up your device to the TV and play the videos on your phone or tablet while taking turns singing along into the microphone! If you haven't got a microphone in your house and have a group with the sudden urge to belt out some tunes – a wooden spoon, hairbrush, or broom handle can all work great in a pinch.
Setting up your own karaoke system is an easy and inexpensive method, but the main drawback is that the sound quality may not be great. If you think you'd like to do karaoke regularly and are looking for something of higher quality, you might want to invest in some specialized equipment.
Checklist:
What if I Want Something a Little More Elaborate?
This setup includes an actual karaoke machine. To get this setup to work, you'll need either a television that can connect to your karaoke machine or, depending on the device you choose, a smartphone or tablet with Bluetooth capabilities. These units typically have the speakers built right in so you can hear both your voice and the instrumental backing track. 
Flashier karaoke machines often have extra fun effects to add to the party atmosphere. Disco light shows, duet mode where you can sing with a friend, additional voice effects to distort your voice, sound effects such as audience cheers, and more!
The lyrics will have a bouncing ball projected onto the TV so you can follow along with ease. Some machines allow you to connect to an external speaker for additional volume, although if you plan to crank up the volume, you might want to invite the neighbors over to sing, too!
Checklist:
Okay, We're Karaoke Obsessed!
If you have a crew of dedicated karaoke singers and want to invest in your home setup, there are tons of possible directions you can go. Additional equipment you can add includes extra speakers, an equalizer, a mic stand, an upgraded professional karaoke machine, and maybe some additional lights.
An equalizer is an audio filter that can isolate specific frequencies and alter them by lowering or boosting them. With an equalizer, you can make vocals more articulate by boosting the treble frequency range, or you could increase the bass frequency to make the beat of the song sound heavier. This piece of equipment often uses Bluetooth or USB functions to connect to your karaoke device to improve the sound quality for the most die-hard enthusiasts that are passionate about the quality of their music.
Upgrading from your karaoke machine or inexpensive setup to a higher quality means a significant financial investment. While you can find a good quality machine for family fun for around one hundred dollars, a professional-grade device can easily set you back five times that amount. On our list of the best karaoke machines for families, you can find a couple of professional quality machines. If karaoke is an occasional party activity, this might not be necessary, but a professional-grade karaoke machine might be a good investment if you're serious about it.
The mic stand is another piece of equipment you might find worthwhile to upgrade, and this will come with a lower price tag than the other components discussed. You can pick up a basic stand for around thirty dollars, making it easier for a group of friends to gather around the mic and sing together.
Checklist:
Taking Your Karaoke Party to the Next Level
Now that you know how to do karaoke at home, you should throw a party! If you want your party to be a hit, consider coming up with a theme to tie it all together. Some great theme ideas could be a particular decade – for example, the eighties or the nineties – or a specific genre of music, such as country or show tunes. 
You can get as creative as you want and have fun with themes. Theme songs from movies are often big hits, or do a retro theme and choose a song from the year each of your guests was born. Encourage guests to come dressed in costumes fitting with the theme, and don't forget to decorate according to your theme!
Starting out, it can be a good idea to already have a playlist of songs that fit your theme. You know your guests the best, so consider the ages of all guests (if there are kids, you might want to make sure your song choices are family-friendly). Make a setlist for your party and have your guests sign up. It's always good to leave some spaces blank for special requests! Party favors like noisemakers and silly hats can add to the atmosphere, too. Your karaoke party is sure to be a hit!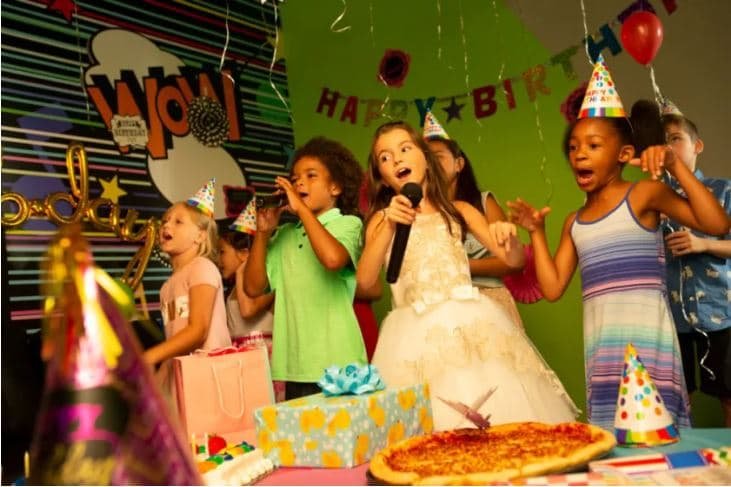 Checklist: