Introduction
Are you looking to have some fun with your family and learn something in the process? The sky's not the limit anymore with a telescope–you can go even further, exploring the moon, the stars, and the entire galaxy. There are so many opportunities to learn in astronomy, from real-life applications of physics and math to tracing constellations in the sky and learning the ancient myths they were named for. A telescope is one of those items that truly the entire family can enjoy.
And you don't need to limit yourself to stargazing. You can take a lightweight telescope on a hiking trip to observe birds and other wildlife or natural features such as mountains and rivers. A telescope is a fantastic way to allow children to explore the world around them.
The Basics
The Gskyer AZ70400 Travel Telescope is nice and lightweight – at only 5.7 lbs, it's perfect for taking along hiking or camping to explore nature by day and the sky by night. Its specs are impressive for the price. It has an aperture of 70 mm and comes with two eyepieces and a 3x Barlow lens that will give you a magnification of up to 120x and clear, sharp images.
Assembly is easy, check out this video for tips:
It comes with several accessories to enhance user experience, including a smartphone adapter and Bluetooth remote that will allow you to take images of what you see. It also comes with a bag, so you can either store it or transport it easily while keeping all the pieces together.
Design and features
Aperture and Magnification
What are aperture and magnification, and why do they matter in a telescope?
Aperture is the measurement of the diameter of the lens, so the bigger the aperture, the more light the lens will gather. A bigger aperture means you can see fainter objects in the night sky. The Gskyer AZ70400 Travel Telescope has an aperture of 70 mm, which is big enough to give you sharp, precise images while remaining a good, manageable size for a portable telescope suitable for kids to use.
This telescope comes with two eyepieces, one 25 mm (for low magnification, 16x) and one 10 mm (for high magnification, 40x), which will allow you to adjust the level of magnification according to what you are observing. There's also a 3x Barlow lens. A Barlow lens, also known as a focal extender, attaches in between the telescope and the eyepiece to reduce the angle of light from the telescope's lens before the light enters the eyepiece.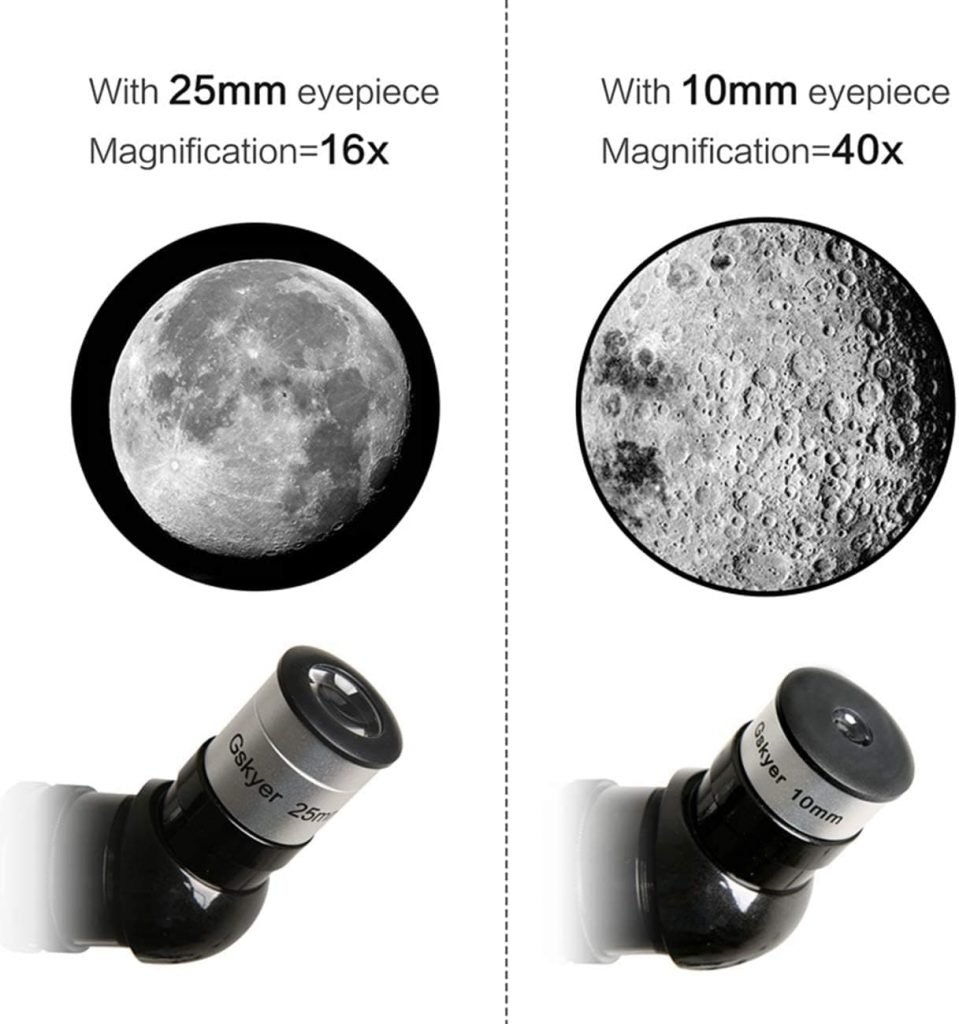 This makes it appear as though the light is coming through a telescope with a longer focal length. When you use a Barlow lens combined with one of the eyepieces, it will increase the magnification. So, for example, you can use the 10 mm eyepiece without the Barlow lens and have 40x magnification, but when you add the Barlow lens, it will be 120x.
The maximum useful level of magnification in this telescope is 120x with the Barlow lens. The lowest level of magnification is 16x. This range will allow you to observe anything from wildlife during the day to the stars and planets at night.
Focal Length and Focal Ratio
What are the focal length and focal ratio, and why do they matter?
Focal length measures the distance between the telescope's optic lens and the spot where the image comes in to focus, which is also called the focal plane. The total length of the telescope will depend on its focal length. To determine the focal ratio, you must take the telescope's focal length and divide it by the lens's aperture. The f/ratio can mean that the telescope might be best suited for different viewing habits.
A long focal ratio (f/10 or higher) gives you a higher magnification, but a narrower field of view is best for viewing particular objects, like the moon or a planet. Lower focal ratios are best to observe galaxies or star clusters–their magnification is lower, but you get a broader view of the sky.
The Gskyer AZ70400 has a 400 mm focal length. When you put it together with the 70 mm aperture, you will get a focal ratio of f/5.7. The telescope is best suited for observing a wide view of the sky or larger celestial objects, like the Milky Way or nebulas.
Mount
The mount on the Gskyer AZ70400 Travel Telescope is commonly found on amateur telescopes, known as alt-azimuth. The 'alt' part of the name comes from the word altitude, while 'azimuth' is a word that means the arc of the horizon between two points. So 'alt-azimuth' is a way of saying 'up and down', which describes how the mount can move.
As the earth rotates, the positions of stars and planets in the sky will move slightly along with it. This means that if you're observing an object in the night sky over a period of time, it will seem to move. With the alt-azimuth mount, you can move the telescope in very small increments at a time and keep the object within your view.
Other Features
The Gskyer AZ70400 Travel Scope has a 5×24 finderscope with a mounting bracket and cross-hair lines to make it easy to locate objects in the sky. This telescope also comes with a smartphone adapter and a wireless Bluetooth remote that you can hook up to help you take amazing photos of the night sky.
It's also got a lightweight aluminum tripod that is easy to transport, with adjustable height, so you can set it up to suit kids both small and large. To facilitate traveling out past the city lights, the Gskyer AZ70400 Travel Telescope comes with a bag that holds the telescope and all of its accessories. It's also ultra-lightweight, weighing in at just 5.7lbs, meaning it's easy for even kids to carry. This telescope also comes with a two-year warranty for peace of mind.
Compare and Contrast
Gskyer AZ90600 Refractor Telescope
With a bigger aperture, the Gskyer AZ90600 Refractor Telescope can gather a lot more light than the AZ70400 model. It's got an aperture of 90 mm and a focal length of 600 mm, which means it has a f/ratio of 6.7. It comes with three eyepieces, one 25 mm for 24x magnification, one 10 mm for 60x magnification, and one 5 mm for 120x magnification, along with a 3x Barlow lens.
Creating a maximum magnification of 360x. It's got an adjustable aluminum tripod that can be raised from 31.5" to 49", suitable for both kids and adults. The alt-azimuth mount makes it easy for beginners to operate. This telescope is heavier than the AZ70400, at 18lbs. It also doesn't come with a carry bag, so purchasing one as an accessory is a good idea if you plan to travel with it.
The Gskyer AZ90600 Refractor Telescope packs a lot more power than the AZ70400 model, but it comes at a price. While you can find the Gskyer AZ70400 Travel Telescope on sale for under $100, the AZ90600 model is nearly three times that price, found on sale for just under $300. For that reason, I'd suggest waiting to make an investment like that until you know a telescope is something that your family is interested in pursuing long term.
What's in the Box?
In addition to the telescope tube itself, the following accessories come with the Gskyer AZ70400 Travel Telescope: two eyepieces, one 25 mm and one 10 mm; one 3x Barlow lens; one 5×24 finderscope with mounting bracket; one Zenith mirror; one smartphone adapter and wireless remote to take photos; one adjustable aluminum alloy tripod; one accessory tray that attaches to the tripod; one user manual; and one convenient carry bag to keep your telescope and all its accessories together for easy transport and storage.
Conclusion
Astronomy can be a great hobby to take up as a family and enjoy together, whether you're looking at the night sky from your backyard or traveling past the city lights to view the sky without light pollution on a camping trip. The Gskyer AZ70400 Travel Telescope will be the perfect accessory for family adventures and lots of learning for many years to come.
The Gskyer AZ70400 Travel Telescope is a great beginner telescope for a family who wants to stargaze on camping trips or observe nature during the day. At 5.7lbs, it's lightweight enough to carry on a hike to observe wildlife, and it comes with a bag for transportation.
The 70 mm aperture and 120x maximum magnification mean that you can see clear, sharp images whether you're observing celestial objects in the night sky or wildlife and scenery during the day. The Gskyer AZ70400 Travel Telescope can be found on sale for under $100, making it a very affordable option to introduce kids to astronomy.