The Bottom Line
The‌ ‌Donner‌ ‌Tri‌ ‌Pop‌ ‌Mini ‌Guitar's‌ ‌innovative‌ ‌three-string‌ ‌design‌ ‌comes‌ with‌ ‌everything‌ ‌you‌ ‌need‌ ‌to‌ ‌get‌ ‌started. ‌You‌ ‌also‌ ‌get‌ ‌plenty‌ ‌of‌ ‌instructional‌ ‌materials.‌ ‌A‌ ‌booklet‌ ‌includes‌ ‌basic‌ ‌information‌ ‌such‌ ‌as‌ ‌how‌ ‌to‌ ‌hold‌ ‌the‌ ‌guitar‌ ‌and‌ ‌tabs‌ ‌for‌ ‌a‌ ‌few‌ ‌simple‌ ‌songs,‌ ‌24‌ ‌flashcards‌ ‌for‌ ‌learning‌ ‌an‌ ‌assortment‌ ‌of‌ ‌chords,‌ ‌and‌ ‌access‌ ‌to‌ ‌the‌ ‌Donner‌ ‌Music‌ ‌app‌ ‌that‌ ‌features‌ ‌several‌ ‌short‌ ‌instructional‌ ‌videos.‌ ‌
At a Glance
Dimensions:
21.2″ x 7.5″ x 1.9″
Recommended Age:
3 + Years
I've never been a musically inclined person, so I've always been a little intimidated about introducing a musical instrument to my kids. Although I have a keen sense of appreciation for music, my kids are like countless others around the globe who love making noise. When it comes time to channel that energy and enthusiasm into something resembling a melody, I have no idea what to do to help guide them.
Enter the Donner Tri Pop Miniature Guitar. This innovative design takes a traditional six-string guitar and strips it down to three, making the learning process accessible to total beginners. It comes with educational materials, including an instructional booklet and chord flashcards, to help beginners learn basic techniques with a simple three-string approach. With a smaller fretboard and fewer strings, picking up basic skills is much easier, and once you've mastered the Donner Tri Pop Miniature Guitar, transferring what you've learned to a full-size six-string guitar is doable.
Like a real guitar, it is made of wood and has a great sound. It's suitable for both kids who are being introduced to the instrument for the first time and adults like me who are clueless but interested in learning.
A Kid's Review
I was a little nervous when I got out the guitar because I'd never played before and didn't know what to do. I didn't even know which way I was supposed to hold it, with the long part in my right hand or left! I read the instructions that came with it, and they told me exactly what to do.
I had to figure out where to put my fingers and which strings to press, and all I had to do was follow the instructions. It took me a few tries to get all the notes, but I figured out what to do. I felt really proud of myself when I realized that I was playing Twinkle Twinkle Little Star all by myself. – G, nine years old.
The Basics
This miniature guitar is perfectly sized for small hands while remaining easy for older beginners to handle. It comes with a wide assortment of accessories – everything you will need to get started! There are also learning materials provided so that even beginners starting from zero knowledge can teach themselves how to play.
Design and features
Design
The Donner Tri Pop Mini Guitar's small and lightweight design makes it easy to handle for toddlers, children, and beginners. Its three strings mean fewer notes to remember, so it makes a great introduction to the guitar for those without a musical background. This guitar is sized for toddlers and children, but it's not a cheap toy – it's made out of basswood, and the nylon strings are soft on little fingers. This mini guitar is available in various colors, with an environmentally friendly coating for protection. It's available in red, blue, and light green, so there's something to appeal to everyone!
Learning Materials
My favorite thing about the Donner Tri Pop Mini Guitar was the array of learning materials it came with. As a piano lessons dropout, let's just say that ours is not a musically inclined household, and talk of tabs and chords has always been a little bit intimidating to me. The instructional booklet that comes with this guitar is perfect for a family like mine who has little to no musical knowledge. Clear diagrams explain basics like which way to hold the guitar and how to position your fingers on the strings and fretboard.
They are laid out clearly in a good format for beginners when it comes to tabs. My nine-year-old, who has as little musical ability as I do, was able to follow along with the instructions on his own and pick out Twinkle, Twinkle, Little Star after less than half an hour of trying out this mini guitar. Along with tabs, there are also clear instructions for chords. The Donner Tri Pop Mini Guitar comes with a set of 24 flashcards to help you learn the different chords. Each card clearly shows the finger positions needed for each chord, so you can work your way through at your own pace, practicing.
There's also a QR code included that gives you access to the Donner Music app. This app includes short video lessons for various instruments, including piano, drums, and full-sized six-string guitars, as well as the three-string Tri Pop guitar. The series of lessons are short videos, under ten minutes, with an instructor who helps guide you through all of the basics you need to know.
It's a great addition to the learning materials that Donner provides with this instrument. Overall, I thought the included learning materials were clear and concise, making this instrument an ideal choice for an absolute beginner like me.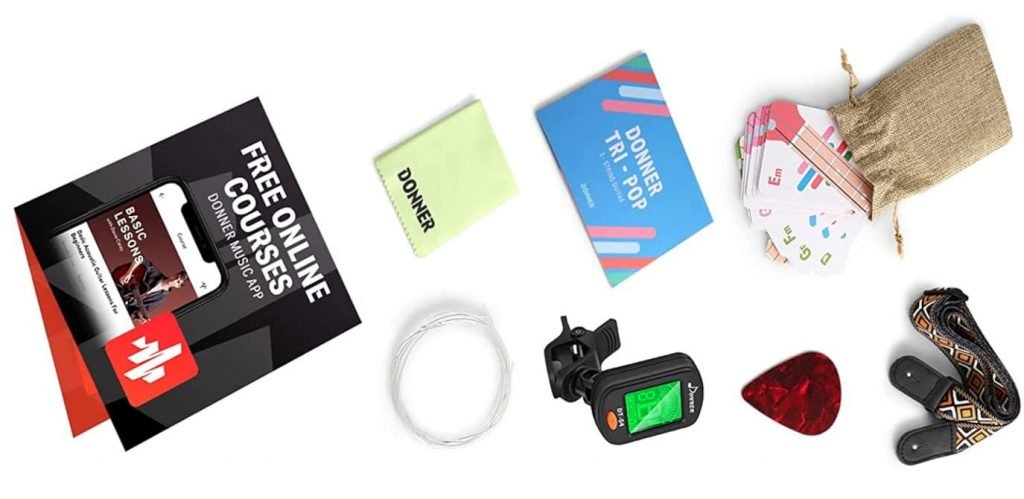 Accessories
Donner has done a great job of including everything you would need to learn to play the guitar. In addition to the learning materials described above, the Tri Pop Mini Guitar comes with a guitar pick so you can strum along. There's also a polishing cloth to keep your guitar in mint condition and extra strings. I haven't had to change a string yet, but looking at the guitar, I should figure it out! An adjustable strap is included; you can adjust its length to fit anyone from a toddler to a preteen.
A tuner is the final accessory Donner includes, and, crucially for beginners like me, the tuner comes with clear instructions for its use. There's also a padded gig bag with straps, whose details can be found in the next section of this review.
Storage and transportation
If you haven't got the storage space for a full-sized guitar, then this instrument might be just what you need. It's right there in the name – the Donner Tri Pop Guitar is definitely miniature-sized! It measures 20.7 inches long and about 7 inches wide and weighs only 1.7 pounds. It will easily tuck away in a cupboard or closet when not in use. The small size and lightweight also make this ideal for travel – you can bring it along on a camping trip or vacation to entertain kids and adults alike!
For storage and protection, this mini guitar comes with a padded gig bag. There are both a carrying handle and two straps so you or your child can carry it, backpack style. I was a little disappointed that there were no exterior pockets, as that would have been very convenient for storing the learning materials detailed above. The bag is large enough that I can tuck the book and flashcards inside with the guitar, but I would have loved an extra pocket on the front for more storage.
What's in the Box?
The Donner Tri-pop Mini Guitar includes everything you need to learn how to play. In addition to the mini guitar, the following is included:
Conclusion
You'd be hard-pressed to find someone who didn't agree that learning how to play an instrument is hugely beneficial for everyone, from kids to adults, but this isn't a skill that comes easily to everyone. Learning chords, finger positions, and tabs can be intimidating when you haven't got much of a musical background, but Donner's educational materials do a great job of laying it all out in a way that is easy to understand a beginner.
Whether you're looking for an easy way to introduce a child to the world of guitar, or you're an adult starting at the very beginning, the Donner Tri Pop Miniature Guitar is an excellent introduction to the instrument.