Kick scooters are one of the most fun and versatile modes of transport for kids. I am yet to come across a kid who doesn't enjoy riding their scooter. Apart from being a lot of fun, scooters are a great way for your kid to get some exercise and learn balancing and coordination.
Scooters come in a variety of forms and options. From two wheelers and three wheelers to recreational scooters, folding scooters, and stunt scooters, there's a scooter for every kid, regardless of their age and preferences. With so much choice, selecting the best scooter for your kid can be quite exhaustive.
Our Selection of The 5 Best Kick Scooters for Kids:
To make the choice easier for you, and keeping the above factors in mind, we have compiled a list of the 5 best kick scooters for kids on the market today. Let's dive in.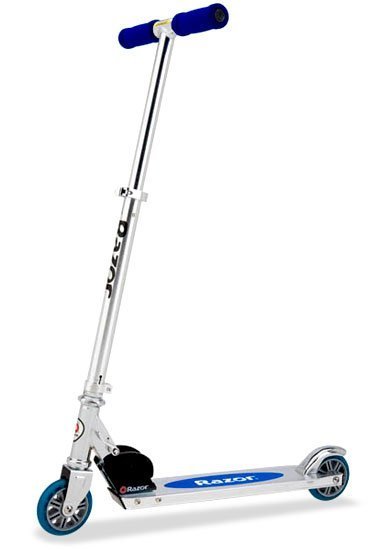 The RazorA kick scooter is a two wheeler that features an innovative design, high quality construction and offers an amazingly smooth ride. With the T-tube and deck made of strong, aircraft-grade aluminum, the Razor A has been built to last. It comes with a patented folding mechanism, making it convenient to transport and store. Setting it up is easy. All you need to do is unfold the T-tube, pull up the handle bars to your preferred height, lock it down and go on a cruise around the neighborhood. If you need to fold it up for transportation or storage, you simply need to reverse the procedure.
The Razor A comes with 98mm inline-style urethane wheels. While the two inline-style wheels make it less stable than a three wheeler, it is more fun to ride once you get used to it. It also features a patented rear fender brake which comes in handy when you need to make quick stops. The Razor A is recommended for kids who are five years and above. With a weight capacity rating of 143 lbs. and height adjustable handlebars, this is a kick scooter that your child is going to ride for a long time.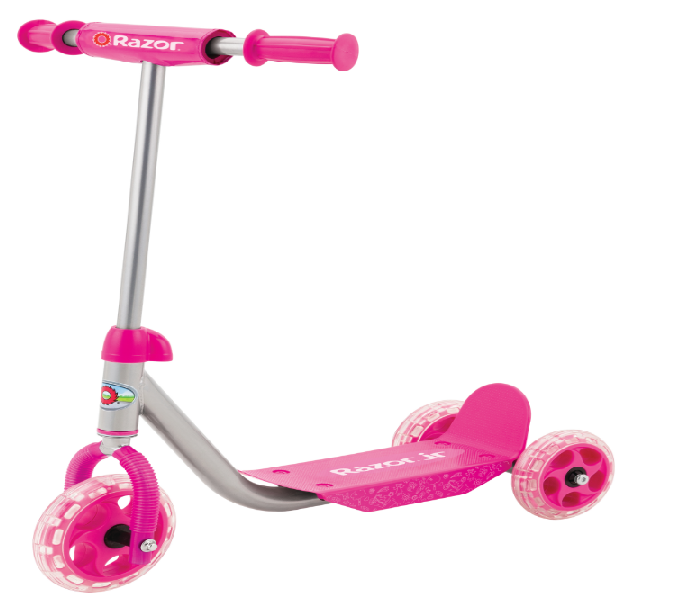 The Micro mini kick scooter is a well-designed three wheeler that is meant for young kids under the age of 5. With its three wheels and the low-to-the-ground deck, the micro mini is one of the safest and easiest kick scooters for toddlers.
It features a unique and cleverly designed lean-to-steer mechanism which works in similar fashion to the rack and pinion system used in car steering. This allows a kid to steer the scooter by shifting their body weight instead of turning the handlebars. This feature makes the mini micro perfect for toddlers to learn balance and coordination. The two front wheels on the mini micro are fairly large, making this scooter very stable. The wheels are made of polyutherane, which is highly durable and contributes to a very smooth ride. The wheels are also non-marking, so you don't have to worry about your kids riding indoors.
The micro mini also features a very intuitive sprung rear wheel brake fender that most kids will easily learn how to use. The standing board is made of plastic reinforced with glass fiber. It can take a maximum weight of 44lbs, which is adequate for a kid under the age of 5. The handlebars are fixed at a height of 24 inches above the deck, which is the perfect height for kids between 3-5 years. The handlebar is removable for easy storage and transportation.
The Razor A2 is the more fun big brother to the Razor A kick scooter. Just like the Razor A, the A2 is a durable two wheeler made of aircraft grade aluminum. While they might look alike, the A2 has a couple tricks up its sleeve. It comes with a springless front wheel shock absorber system that smoothens out the ride even on bumpy sidewalks. It also comes with an updated deck design and a new wheelie bar, allowing the rider to stun their peers at the skate park with amazing stunts and tricks.
Here are some of the tricks you can perform on the Razor A2:
Just like the Razor A, the A2 comes with the same patented folding mechanism, making it easy to store the A2 or carry it at your side just like a skateboard. It comes with the 98mm inline-style urethane wheels and the patented rear fender brake. Unlike the Razor A, the A2 comes with an enhanced finger guard. It also features height adjustable handlebars and has a maximum weight capacity of 143 pounds. The Razor A2 kick scooter is suitable for kids above the age of 5.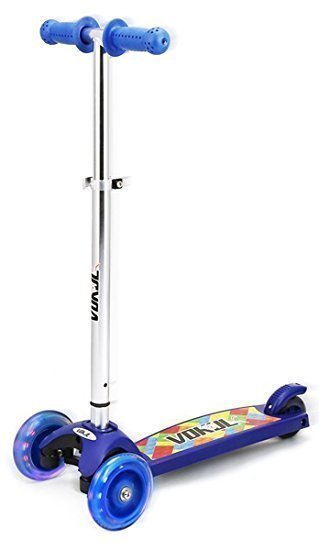 Built by Vokul Sports Equipment Co. Ltd, the VK 1281F scooter, sometimes referred to as the mini kick, is a well-designed three wheel scooter that is suitable for children between the ages of 2-5. Just like the micro mini, the VK 1281 comes with the safe and innovative lean-to-steer mechanism which is important for kids to learn balance and coordination. Unlike the micro mini, the handlebars can be adjusted to perfectly fit your kid's height. The handlebars are also fitted with a soft hand-grip that is safe for the delicate hands of a toddler.
The VK 1281F has a wide front wheel-base for improved stability. It also has a low-to-the-ground and super wide deck that fits both feet, making it safer and more comfortable to ride. The wheels on the VK 1281F are made of anti-abrasive and shock-absorbing polyutherane to ensure a smooth ride. This scooter also has flashing front wheels, making it more attractive and giving your kid extra visibility, especially when they are out riding at dusk.
The handlebars on the VK 1281F, which are made of aluminum, can be detached for easy storage and transportation. The mini kick comes with a rear wheel spray protection quick-reach brake to ensure more safety for your kid. It has a maximum weight capacity of 77 lbs.
As its catchphrase goes, the Razor Jr. Lil' kick scooter brings big fun to the little ones. Designed specifically for toddlers, this scooter will allows your kid to have a Razor of their own and feel like part of the gang. Unlike the other Razors, the Razor Jr. Lil kick scooter comes with a unique three wheel system. Instead of the normal two front one rear wheel design, it has a one front two rear wheel design for improved stability. It also features large tough wheels which contribute to a balanced ride while still maintaining the fun of a typical Razor scooter.
Since the Razor Jr. Lil kick scooter is meant for small kids below the age of 5, it also comes with a super wide and slip-resistant deck for maximum safety. The deck is low-to-the-ground to allow easy scooting. With its steel frame and polypropylene deck, the Razor Jr. Lil kick scooter is built to last.
Choosing The Right Kick Scooter for Your Kid:
Choosing the right kick scooter for your kid involves finding the right balance between safety, fun and durability. There are a number of factors you should consider before making your choice. First, you need to consider the stability of the scooter. Stability is determined by a number of factors. Generally, three wheelers are more stable compared to two wheelers. For three wheelers, a wider standing platform and a wider distance between the two front wheels translates to more stability.
Another important factor is the wheels size of the scooter. Larger wheels are more versatile and can handle different terrains. A scooter with smaller wheels might send your little one flying forward if they encounter pebbles on the road or cracks in the sidewalk. You don't want your kid taking a shot at being superman, do you?
A good scooter should also have an effective braking system. While most scooters come with a rear step-brake, some have no braking system at all. This can be quite dangerous, especially during downhill rides. Generally, wider and studier rear step-brakes are more effective. If possible, avoid the thin aluminum brakes. They are not very effective, especially when the wheels get wet.
Finally, you need to consider the scooter's height and weight capacity. Ideally, you want something your child can ride for a long while as they grow. Therefore, go for scooters with height-adjustable handlebars and a weight capacity that's at least 20 pounds more than your kid's weight.
Conclusion
There are lots of awesome choices when it comes to buying a kick scooter for your kid. The choice will mainly depend on your child's age and preferences. For younger kids, three wheelers are the best option since they have higher levels of safety and comfort. Older kids will have more fun on two wheelers. While this list is not exhaustive, it represents some of the best and most popular kick scooters for both first time riders as well as more experienced kids. I hope that by compiling this list of the 5 best kick scooters for kids, I have helped you make the right choice for your kid.
Safe riding out there buddies!