What is Sensory Play? Sensory play activities are not new. A baby banging on a pot with a wooden spoon, a toddler making mud pies, and a preschooler trying to pump their legs on a swing are all engaging in sensory play. What is new is the realization that these activities are vitally important parts of child development and that babies and children begin learning about the world through sensory experiences from a very young age.
Sensory play includes any activity that engages one of the five senses, along with activities that involve movement and balance. As you might imagine, this is a huge range, so there's probably a good chance that even if they have not heard the term before, most parents are already involving their children in some type of sensory play.
Swiss psychologist Jean Piaget first put forward the concept of sensory play as a building block of child development in 1936 in his theory of cognitive development. He declared that between birth and two years of age (the 'sensorimotor stage), children learn about cause and effect as they explore with their senses through play. It was further developed by Italian doctor and educator Maria Montessori, whose play-based education method is currently enjoying widespread mainstream popularity. "Play is the work of childhood", said Jean Piaget, and it's true – play is actually serious business!
Types of Sensory Play
Sensory play, appropriately enough, refers to play that involves the five senses – touch, taste, smell, hearing, and sight – along with two additional senses, balance and proprioception (awareness of body movement and position).
Touch, or tactile play, most commonly comes to mind when thinking about sensory play. Any type of play that involves exploring an object with their hands is tactile play. Popular tactile play includes sand and water tables, playdoh or clay, and touch books with various textures for babies to experience.
Auditory play involves exploring sound. Musical instruments or banging a pot lid with a wooden spoon helps children differentiate sounds and learn about volume (tap the spoon gently for a quiet sound or really bang it for a loud one!).
Olfactory (smell) and taste sensory experiences are frequently initiated by children with no encouragement from adults! Children who put things in their mouths are exploring the world through their taste and smell senses. To ensure that this stays a safe experience, take care not to leave young children unsupervised around objects small enough to swallow, and purchase nontoxic art supplies just in case!
Visual sensory play is closely connected to the auditory and vestibular systems and helps to develop your child's sight. Identifying colors and patterns and sorting activities can be a fun way to engage in visual sensory play.
Vestibular play refers to your child's vestibular system. Located in the inner ear, it is crucial to our sense of balance and movement. Getting a child's head into as many different positions as possible by rolling, hanging upside down, swinging, and jumping will all help to strengthen the vestibular system.
Proprioception play is an awareness of where your body is in space and how different parts of the bodywork together. Pushing, pulling, and jumping will all help your child develop spatial awareness and coordination of their body.
Benefits of Sensory Play
Ideas for Ages 0-1
Even young babies who aren't yet mobile can begin to learn about the world through sensory input. As babies grow and become more independent, they can enjoy a wider variety of sensory activities. The youngest babies will enjoy activities such as touching a blanket made of different textured fabrics, looking in a mirror, or grabbing at a toy that makes a sound. Other activities for babies include:
Ideas for Toddlers Ages 1-3
Toddlers love to explore the world by doing things for themselves. Concepts like color, opposites, and sorting activities are fun and help develop cognitive abilities. Here are a few ideas for sensory activities for toddlers: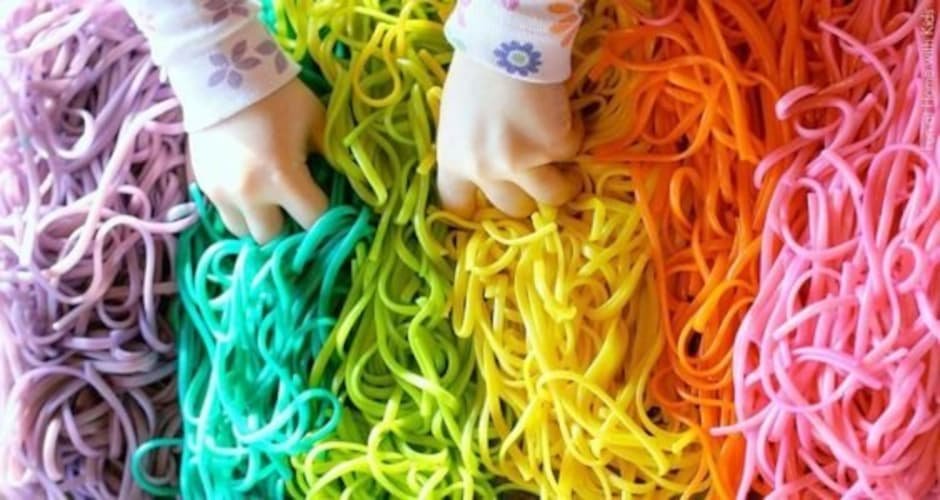 Ideas for Ages 3-5
Older toddlers and preschoolers will enjoy many of the same activities as toddlers but may become more interested in playing with other children at this age. In a preschool setting, pre-reading and pre-math skills can be encouraged through sensory play.