Although there is definitely not a shortage of children's toys available on the market today, it can be a challenge to find something that will keep them active. It is easy enough to buy something that requires a bit more interaction than passively watching television, but if the toy is not fun and engaging chances are it will be left gathering dust somewhere in a closet. That is why we have scoured the web to find a couple of toys that will not only improve the fitness level of your child, but will allow them to have fun while playing with it.
1. Bilibo
For an open-ended play experience that stimulates childrens imagination just as much as their muscles, the Bilibo is a good choice. Since it is made from high-density polyethylene this shell shaped toy is virtually indestructible and can be used indoors or outdoors. Instead of imposing any type of play pattern on children, the Bilibo enables them to use their own creativity to come up with new uses for it.
From rocking, standing or sitting in it to spinning around in it, you can be sure your child will come up with activities using this toy that you might not even have thought of. This is definitely a toy that will improve the fitness of your child, but only if they are imaginative otherwise they might end up using it only as a chair!
2. Consoles
Getting kids a console to help them stay active might sound like a contradiction, but thanks to motion sensing input devices such as the Kinect for Xbox and Move for Playstation, kids can exercise more than just their fingers. Dancing or controlling the movement of characters through their own body movements will ensure that kids remain active and provides good exercise on rainy days when they are confined indoors.
You don't need to buy the latest and most expensive consoles either as a PS3, Xbox 360 or even Nintendo Wii with a balance board will get the job done. Many of the games based around motion sensing input are suitable for all ages, so you can also join in on the fun with the kids.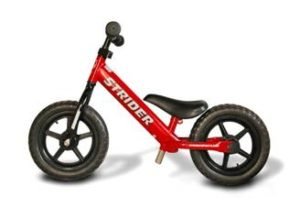 Riding a bike is a great way to stay active, but what about kids who are too small to work the pedals or intimidated by the design? The answer is balance bikes, which teaches children how to steer and balance while also boosting their confidence. Since these bikes don't have any drivetrain or pedals they are very easy to operate and kids are able to master using them much quicker than a proper bicycle.
Since children use their own feet to propel themselves forward it is also a great form of exercise. In addition, it is an effective way for them to learn how to ride without having to rely on training wheels.
4. Naturally Playful Big Folding Slide
Kids love to slide, but if you don't have the time to take them to a play area regularly this folding slide is a great solution. The slide requires misnimal assembly and thanks to its double wall polyethylene construction it is not going to fall apart after a bit of use. The slide features high side rails as well as handles that are easy to grip which makes it easy for kids to climb to the top.
The size of this slide makes it ideal for kids in the two to five year old age group and since it can be folded up and stored securely you won't have to sacrifice a permanent spot in your backyard to it either.
5. Little Tikes Adjust 'N Jam Basketball Set
To get your kids working up a sweat while also improving their hand eye coordination, this basketball set is a great choice. It features five height adjustments which makes it suitable for kids from three to ten years old. It also includes a kid-sized ball which make it easier to score and thanks to the weather resistant design you can keep it outdoors.
This set can even be used indoors if you have enough space. This is also a toy that encourages kids to play together making it perfect for siblings.
6. Rebound Indoor/Outdoor Foam Bungee Jumper with Slip-Resistant Bottom
Pogo sticks can be a lot of fun and provide a nice workout, but they are not exactly the safest toys. The solution is this rebound foam bungee jumper which features a safe and slip-resistant design.
Because the jumper has stretchy tubing and a soft handle it is very safe and provides kids with the same thrill as jumping with a real pogo stick. It is also able to support up to 250 pounds which makes it a great toy for kids' ages four and up.