If you're looking for a balance bike that can grow with your child as they master the different stages of bike riding, this might be the perfect option for you. Today we're taking a closer look at the Glide Bikes Mini Glider. A balance bike for kids aged between 2 and 5 years old.
About the Brand
After trying to teach his own 4-year-old daughter to ride a bike with training wheels, Glide Bikes owner Ed Mondello realized that teaching a child to balance should be the first step to learning how to ride a bike, not the last. Seeing a gap in the market for a balance bike that featured both a solid design as well a durable construction, Glide Bikes was born.
Mondello set out to create the "perfect balance bike" by incorporating his own patented slow-speed geometry, as well as a low center of gravity to all Glide Bikes balance bike models. Both of these features help children develop not only the balance but also the confidence needed in order to transition to a standard pedal bike.
Lightweight
The Glide Bikes Mini Glider is another balance bike that surprised me when it arrived with how light the package was. With a weight of only 8 lbs, there are no concerns that your child won't be able to handle this bike. I have seen smaller children struggle while trying to turn their balance bikes around or when pushing them uphill, so the lighter weight definitely helps a lot.
Easy to Assemble
I was afraid that the bike would require a lot of assembling as it has a different design than most balance bikes. However, I was once again pleasantly surprised when I opened the box. All I had to do was insert and tighten the handlebars using the tool included in the box and then adjust the saddle. I only had to turn one bolt to adjust the saddle height, which is very convenient.
If you do run into any trouble, the customer service number is listed in the instruction manual and I can attest that the people manning the lines are very friendly and helpful. I also contacted the manufacturer through their website with a quick inquiry and got a prompt reply.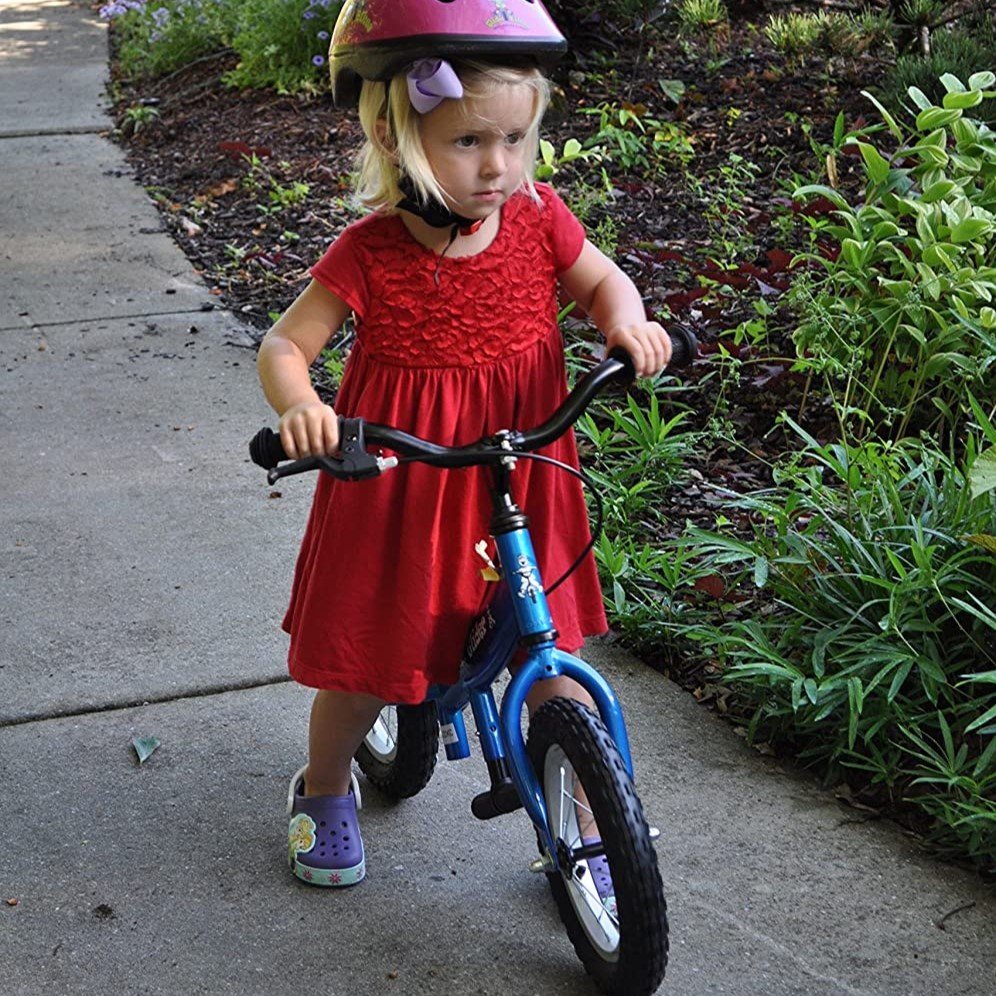 Glide Bikes Mini Glider Features
The Glide Bikes Mini Glider Balance Bike actually sports quite a couple of features that you won't find on many other brands. The first thing that I like about it is the design of the frame. The middle bar is curved a lot lower than similar balance bikes, which not only makes it easier to mount the bike but also reduces the risk of groin injuries if your child does lose his balance and falls forward. The low center of gravity improves the stability of the bike and the design is based on downhill mountain bike geometry which shows the attention to detail.
Foot Pegs
The Glide Bikes Mini Glider also features footpegs, which is still a rarity on balance bikes. My daughter is used to the balance bikes without the footpegs so it took her a while to get used to them. However, once she was used to them, she really liked this feature. In my opinion, the footpegs make the riding more comfortable and will certainly help when it comes to transitioning the child to a pedal bike. The footpegs are large enough that your child will be able to comfortably rest their feet while riding. You can always leave the footpegs off when starting out and introduce them as their skill level improves.
Brakes
The second feature found on the Mini Glider is the brakes, which is once again not something that I have seen on many balance bikes. Initially, I was a bit wary of the brakes as I was concerned that my daughter would crash when using them and coming to an abrupt stop.
My fears were unfounded though, as the brakes actually just slow down the speed of the bike instead of suddenly stopping it. It is another feature that my daughter was not used to, but once she figured it out she used it to control her speed when going down steeper hills. It boosted her confidence and I think these skills will come in handy on larger pedal bikes. I know a lot of parents are concerned about brakes on balance bikes as they feel that children shouldn't ride the bikes at high speeds
Wheels
The wheels on the Mini Glider have been upgraded from the previous model and now feature air tires. I usually prefer pneumatic tires, so I'm glad to see this change in the design of the Mini Glider. The tires are sturdy and provide better traction than what non-pneumatic tires provide.
Pedal Assembly Kit
Something that really sets the Mini Glider apart from other balance bikes is its grow-with-me features. As mentioned earlier, you can start off as just an ordinary balance bike and add the footpegs once your child gets the hang of things. Once they've really mastered their balance, you can purchase a separate Pedal Assembly Kit which allows you to transform the Mini Glider into a standard pedal bike.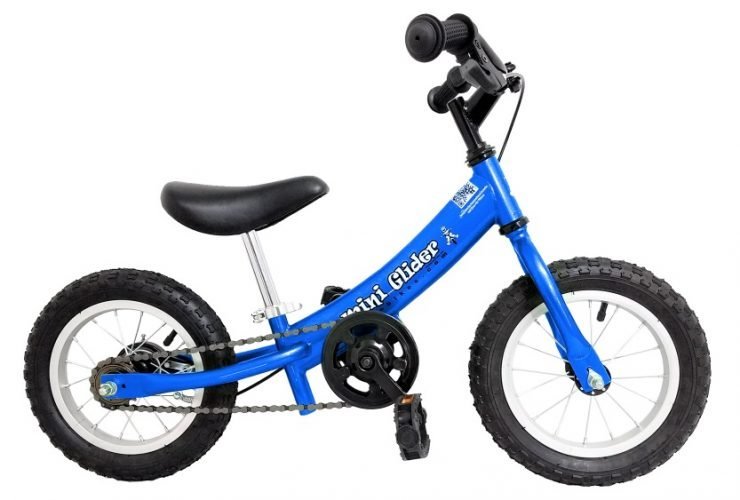 Pros & Cons
I have seen cheaper balance bikes than the Glide Bikes Mini Glider, but not with as many features. Of course, the features are only useful if your child is actually going to benefit from them. Some children are confused by the footpegs and brakes while others love these features, so once again it is going to come down to what your child prefers. Let's have a look at the pros and cons of this bike to see where it fits in compared to the competition.
Glide Bikes Mini Glider Conclusion
The Glide Bikes Mini Glider Balance Bike offers plenty of features, but it is up to you to decide whether they will be useful for your child. I like the fact that the bike teaches children how to use brakes and how to place their feet on the pegs while coasting which are essential skills for when they finally make the leap to pedaled bikes.
On the other hand, these things could also potentially confuse or intimidate younger riders who want a straightforward balance bike. The price is quite reasonable and the bike is durable enough that you can pass it along to younger siblings when your child outgrows it. Overall the Glide Bikes Mini Glider is a solid bike that will put a smile on the face of any child who receives it as a present.