A water gun is essential to any kid's childhood and summer fun. Whether it's a backyard tactical battle or keeping cool in the pool, the kids will stay active outside and enjoy completely soaking their friends or siblings on those extra hot summer days; What's not to love?
If kids like the adrenaline rush of a tactical game but don't want to get soaked, you might want to consider a gel blaster instead. Just as much fun, but with the added benefit of staying dry.
Our Winners
The Best Water Guns For Kids
1. SPYRA LX WaterBlaster Premium Water Gun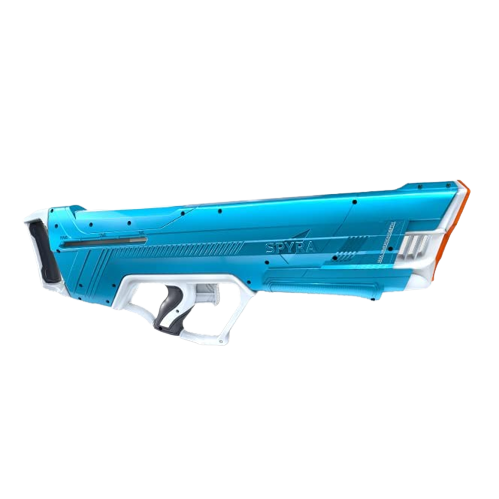 Firing Mechanism: Pump action
If one stream of water isn't enough for you, check out the SpyraLX WaterBlaster Premium Water Gun. You get at least 18 powerful individual blasts of water before you need to reload. This feature allows you to enjoy unprecedented precision when spraying and easily reach targets within a 30-foot firing range. 
No batteries are required. To fill up, dip the front of the Spyra LX WaterBlaster into a water source and draw back the plunger. Take care not to submerge the gun's barrel past the maximum submersion level marker on the barrel, as some users have reported leaking when this happens. Refilling and repressurizing the gun takes only a few seconds, and each refill can give you between 18 and 25 great pump shots. Buyers should note that this gun can be heavy when full and, as it requires two hands to operate the pump feature, it is best for older kids with arm strength. 
2. XShot Warfare Fast-Fill Water Blaster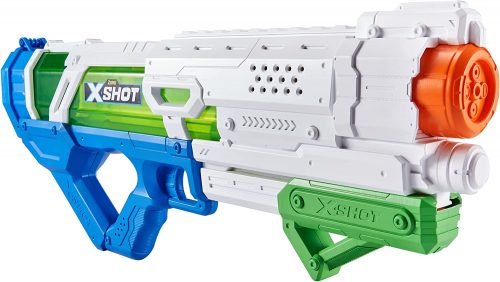 Firing Mechanism: Pump action
The fastest-filling water blaster ever created! When you're in the heat of the battle, you don't want to take time out to fill up your water tank, and you don't have to anymore with the XShot Water Warfare Epic Fast-Fill Water Blaster's Fast-Fill technology. Just keep a pool or large bucket of water handy, and when you need a refill, dunk, pull the hammer back, fill, then release the hammer to seal up the water tank in mere seconds. The manufacturer recommends pressing on the seal to make sure it's fully closed before you go to rejoin the battle.
When it's time to fire, you can adjust the nozzle on the top of the water gun to change the velocity of the water stream. Although this has a trigger, it's just for aesthetic purposes, as it has a pump action feature that can send blasts of water up to 30 feet. Overall, very reasonably priced for the action, it can provide and offers excellent value. 
3. Nerf Super Soaker DartFire
Firing Mechanism: Trigger/Pump action
Two in one! The Nerf Super Soaker DartFire is both a water gun and a dart gun to double the blasting fun. Select dart or water mode, or switch back and forth between the two to take advantage of your opponent. The dart gun blasts one dart at a time when you pull the trigger and can shoot water up to 38 feet with the pump-to-fire feature.
The water tank for this gun holds up to 40 ounces of fluid. With the blaster, you get five soft-tipped Nerf darts in the package, but large refill packs are relatively cheap and easy to purchase.
4. Nerf Super Soakzooka
Firing Mechanism: Pump action
These are heavy-duty soakers for some epic water fights! The Nerf Super Soaker Soakzooka has one of the largest fluid capacities of any water gun mentioned previously, checking in at a massive 55 to deliver massive blasts of water.
This unit isn't held like a traditional water gun but has a handle on the top of the tank, and a pump handle to get the action going. Just fill the tank with water, then move the pump handle back and forth to drench anyone within range. And it's an impressive range, too: the Nerf Super Soaker Soakzooka will unleash a veritable geyser that can travel up to 39 feet. This powerful water gun is sure to inspire hours of backyard battles. 
5. Quanquer Super Water Guns for Kids
Firing Mechanism: Pump action
A one-sided water gunfight isn't much fun, so why not buy two for the price of one? The two-pack Quanquer Super Water Guns for kids offers fantastic value and is an excellent gift for siblings or to keep one water gun on hand for a friend. These water blasters offer massive 40.5 oz water tanks with a wide 3-inch opening designed to refill in seconds. Dunk in your water source, fill it up, close the reservoir lid, and get shooting! One refill can give you up to 50 shots. 
The Quanquer Super Water Guns for Kids have a pump action firing mechanism and a comfortable, non-slip handle design to make it easier to hold while running around. A see-through water reservoir lets you see when you're running low, so you won't get caught with no ammo. This combo pack is a great value buy for double the fun. 
6. Team Magnus Incog Water Guns
Firing Mechanism: Pump action
Want to carry a water gun incognito? Check out the Team Magnus Incog Water Gun! With its sleek and stylish modern design, this water gun looks like none you've ever seen before, allowing you to have the element of surprise on your side when you sneak up on your target. It's made of high-quality modern plastic.
It doesn't just look good; this water gun works very effectively. With a water tank capacity of 40 oz and a firing range of 32 feet, its stats stack up well against competitors. Unscrew the cap to fill the water tank with a faucet or hose, then screw it back on and initiate the pump action handle to get the water pumping. If you want a modern and stylish water gun that can get the job done while looking good at the same time, the Team Magnus Incog Water Gun is what you're looking for.
Are There Different Types of Waterguns?
Yes, there are.
All have pros and cons, so depending on your budget, the age of the person you're buying for, and the circumstances in which you're planning to use it, there's a water gun that will work for your situation.
Squirt Guns or Water Pistols
Squirt guns, also known as water pistols, are the smallest. These lightweight water guns feature a small water tank and release a stream of water when a trigger is pulled. They don't typically have a considerable range. Because these water guns are very lightweight and don't squirt too far, they are great for small spaces where you don't want to squirt your neighbors accidentally or for more minor children who might struggle to carry a bigger water gun.
Syringe Pistons
Syringe pistons consist of a long tube with an inner rod pulled back and forth to create pressure. Pull it back to draw water into the tube, then push it forward to compress the air and push water through the nozzle. Because all the water is typically shot out in a single stream, these aren't ideal for a water fight but make fantastic pool toys.
Super Soakers
Super soakers are the type on our list of the best water guns for kids. These guns have larger water tanks than squirt guns, delivering much bigger and more powerful streams of water. Typically super soakers work with pump action, where one hand moves the pump mechanism back and forth to activate the stream of water. However, unlike syringe pistons, you can get many shots off before going back for a refill. The drawback to these water guns is that they are much larger and, therefore, heavier than squirt guns, so they might be difficult for young children to operate efficiently with the pump action. 
Creative Ways to Use Waterguns
Water guns are a fun way to cool off during the summer, but they can also be used for various creative activities, whether you're looking for some outdoor summer fun or just something to keep the kids busy indoors.
Water Gun Races: Set up an obstacle course and have teams race against each other using water guns as propulsion. It's a fun and creative way to enjoy friendly competition.
Water Gun Tag: Water guns make this classic game even more fun. Divide into two teams and have each team hide in different areas. When one team tags someone from the other team with a water blast, they're it.
Water Gun Art: Fill water guns with paint and have children create a mural on an outdoor wall or fence. It's a fun and creative way to get creative and make some art.
Water Gun Target Practice: Set up targets in the backyard and challenge kids to see who can accurately hit the targets with their water guns.
Water Gun Scavenger Hunt: Hide objects around the yard and have kids use their water guns to "shoot" the objects to find them.
Water Gun Water Balloon Filling: Fill up water balloons with a water gun for a fun and creative way to get the job done.
Buyer's Guide
Water Tank Size or Capacity
The capacity of your water tank will determine how long you can fire your water gun before you need to go for a refill. Larger water tanks don't necessarily mean that the water gun will last a long time – if your water gun has a huge tank but unleashes enormous geysers of water with every shot, this will result in bigger but fewer shots. A water gun with a slightly smaller tank that produces a thinner stream will likely last longer. 
When looking at the water tank, also look at how wide the opening is for refills. A water gun with a wide refill opening will fill up much quicker than a tank with a narrower opening, and the faster you can refill your water gun, the faster you can get back out there!
Weight of the Water Gun
Consider the age and physical coordination of the person you're buying a water gun for. A super soaker with a 40 oz tank will be very heavy when complete, and a younger child would likely struggle to lift it high enough to shoot straight. Very young kids might also have trouble with the amount of coordination required for the pump action while holding the gun up. Larger water guns are best for kids over the age of six. If you want to purchase a water gun for a toddler, consider starting with a lightweight squirt gun, as it will be easier for a young child to handle.
Spray Distance
The range of the water gun, or the spray distance, refers to how far you can stand from a person or object and still hit them. Smaller squirt guns typically work best at close range, while larger water guns like this list have more extensive firing ranges of around 30 feet.
Remember that even if a water gun advertises a specific range, the accuracy can be affected by other factors, such as how much water remains in the tank (less water sometimes means less accuracy) and the steadiness of the shooter's hand.
BPA Free Materials
Most water guns are made from plastic. Ideally, this should be non-toxic, BPA-free plastic. These plastics are entirely safe and exceptionally durable, so they are ideal for use in children's toys. Most water guns are made from BPA-free plastics but double-check the product description of your chosen model to be sure.
Budget
No matter your budget, you can find a water gun that will fit. High-end water guns with huge tanks that send potent streams of water long distances might retail for close to $100, but you can also go to a dollar store and find inexpensive squirt guns for just a couple of dollars. In most cases, you get what you pay for. Cheaper dollar store options might be great to buy in bulk and hand out at a children's party for water fight fun, but they're more likely to break easily or stop working after a few uses. Higher-end options will likely come with additional features and last several years. 
Many mid-range options between the two extremes, priced around $30, offer a good combination of quality and cost efficiency. Most of the options on our list fall into this mid-range category.
Frequently Asked Questions
How Much Does the Most Powerful Water Gun Cost?
The Spyra Two is the most expensive water gun, costing $174. Its cousin, the Spyra LX, is half the price and is the most expensive water gun on our list. 
What Is a Water Bullet Gun?
A water bullet gun, sometimes called a gel gun, shoots tiny, biodegradable beads that expand when soaked in water (similar to Orbeez). These are sometimes called 'gellets', and they dissolve on impact, leaving only a few drops of water behind. They're a great cross between a dart gun and a water gun. To learn more about a water bullet or gellet gun, check out our guide to the best gel blasters.
Which Water Gun Has the Longest Range?
Thirty feet is usually the maximum realistic range for most super soaker-type water guns. The Nerf Super Soaker Soakooza has the most extended range of water guns on our list at 39 feet, but it is warned that you might not shoot that far every time.