---
If you think that a pushbike or 3 wheel scooters would be the ideal gift for the active child in your life, you're right!
On the hunt for the best 3 wheel scooters for kids? The selection available should put a smile on any child's face. With the wide range of colors, styles, and age levels, it shouldn't be difficult to choose the best 3 wheel scooters for your little one to enjoy.
As long as you focus on the criteria that is important to every parent, such as safety and the kind of scooter features your child will fall in love with, buying a fun, fantastic scooter for your kid gets a whole lot easier.
---
LaScoota put a lot of thought into their sit or scoot kick scooter for boys and girls aged 2 to 10 years old. It offers outstanding value for money at the price and makes the perfect addition to any family's scooter collection. This 3 wheel toy is built with high-quality materials and fabrication.
The LaScoota design allows a child to either sit or stand while they ride around in style. The model comes with a detachable and height-adjustable seat. LaScoota encourages any child to pick up the "lean to steer" mechanics of scooter riding quickly. This raises any kid's confidence and enjoyment levels considerably.
Show more
Pros
Cons
---
The Micro is a well-known scooter brand and the Maxi Original is instantly recognizable as a favorite kids' toy. The Maxi Original is manufactured for ages 5 – 12 years old, and the design and coloring will be equally appealing to boys and girls in that age group.
The wheels on this model are made from polyurethane, the same material that's used for skateboards. It allows the wheels to smoothly glide on many different terrains, both urban and suburban. In keeping with the Micro brand, every part is replaceable on the Maxi, if it wears out or you wish to extend the toy's life further. The package includes a hex wrench that can be used to tighten or loosen the handlebar clamp.
Show more
Pros
Cons
---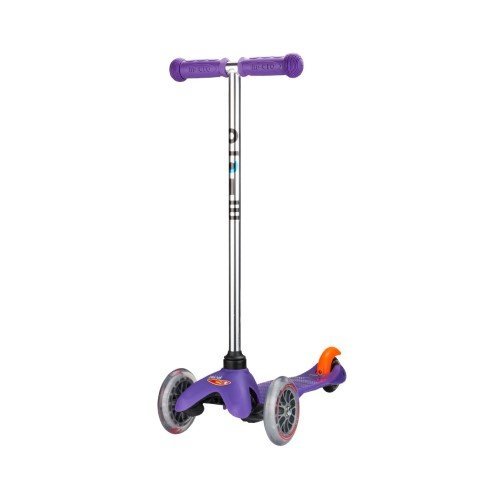 As the toy name suggests, the Micro Mini Original is for kids aged 2 to 5 years old. It's a classic-looking scooter, and the brand is one of the most established scooter manufacturers in the world. This particular model won a toy award at the Toy Fair in Nuremberg in 2012, Oppenheimer Award for Toys, Best in the Show, and Parents' Choice. The annual Toy Report named the Micro Mini the best preschool scooter, and it also won the best outdoor toy award from Learning Express Stores.
What can be added to all of these accolades? It is the best scooter for kids ages 2 to 5 years in this price range. The "two in the front, one at the back" wheel placement makes it easy for toddlers and small children to stand on and feel stable. And, of course, the high-quality construction and safety features will put a smile on any parents' face.
Show more
Pros
Cons
---
Just one look at the Skidee 2in1 and you'll be able to see the smile of delight on your toddler's face when you present this model scooter to them. You can choose from a host of gorgeous colors and even the three wheels come with sparkling, multi-colored lights that twinkle when the scooter is in motion. The best part is that the faster your little one is going, the brighter the wheel lights will glow. It's definitely the best kids scooter for motivating play and activity.
If the twinkling lights aren't enough entertainment, the Skidee plays music too. When your toddler is tired from all the scooting around, they can sit on the integrated seat and choose to move the model around from a seated position. The seat folds up and down, depending on if the child wants to sit and ride or stand and kick. The foldable seat snaps back when you need to turn it back into a traditional scooter again.
Show more
Pros
Cons
---
This Mac Sports model has an ultra-long design which makes it the best choice for families' looking for a wagon with extra space and compact foldability all-in-one.
If you are a fan of the Mac Sports utilitarian look and capabilities, you will already have a good idea about what this durable brand offers over other foldable wagons in its class. The Mac isn't a toy wagon for kids, but don't let this put you off keeping one of these folded up in your trunk for picnics on the beach, or other areas where towing gear is better made in one trip.
Show more
Pros
Cons
---
Yet another well-trusted name in the kids scooters nice market, Razor is an instantly recognizable name brand for strong and reliable kids' toys with wheels. The Razor is effectively priced to be accessible to anyone with a tight budget and children aged three to five years old.
There are minimal bells and whistles on this model: The colors come in blue or pink choices and the three wheels are large, tough, and offer a stable ride. The deck is slip-resistant and the handlebar is padded and fixed. The Razor Junior Li'l Kick has one wheel in the front and two wheels at the back (same wheel configuration as a tricycle).
Show more
Pros
Cons
---
Are you looking for unique 3 wheel scooters that can offer your kid a fun and safe activity experience? This is what the Scooters for Kids DeLuxe Aluminum 3 wheel glider can provide your little one. It features a special adjustable T-bar that locks into place anywhere from 14.5 to 24 inches in height. This means that both short and tall kids can enjoy a ride on this scooter.
It is made from impressively durable, strong materials: carbon steel construction and super-unique aluminum frame, this scooter is built to last and provides a safe and reliable ride. Because it has a folding design, the DeLuxe Aluminum is the ideal toy to take with you when traveling or store away at home.
Show more
Pros
Cons
---
If you are on the lookout for one of the best beginner scooters, you should have a look at the S Skidee Scooter with Removable/Folding Seat. It is recommended for ages 2 up to twelve, but if your twelve-year-old tries to take this beautiful scooter away from your toddler, there's sure to be an outcry. From the minute your little one sees this well-designed, colorful scooter, they will fall in love with it.
The S SKIDEE has the standard two wheels in front, one wheel at the back design, and the frame and deck are made from lightweight aluminum alloy for easy pushing. It has exceptional balance and makes it easier for a child to learn "lean to steer". If any model is geared to encourage a child to play outside and gain advanced skills in riding bicycles and scooters, the S SKIDEE can do that.
Show more
Pros
Cons
---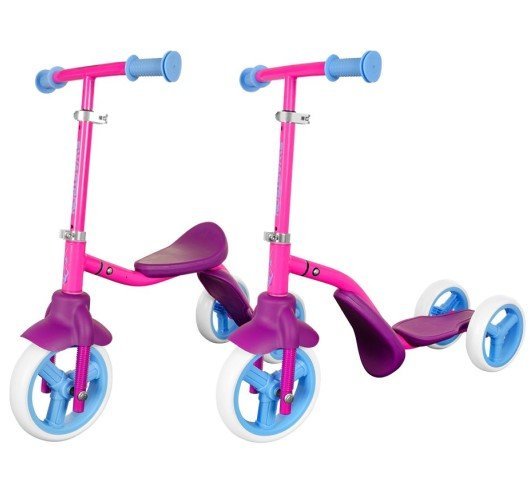 The Swagtron is a fun kid's toy because it can change from being a scooter to a tricycle in just a few twists and clicks. At the price, this makes the Swagtron one of the most budget-friendly toys on this list. The cool concept of transforming from a trike into a scooter with just a twist of the handlebars makes this model unique.
All you have to do to change the scooter shape into a kick-trike is turn the handle around until you hear a solid click sound. This indicates the new style is locked in and ride-ready. No other scooter plus trike combo has such an easy change around that's also safe.
Show more
Pros
Cons
---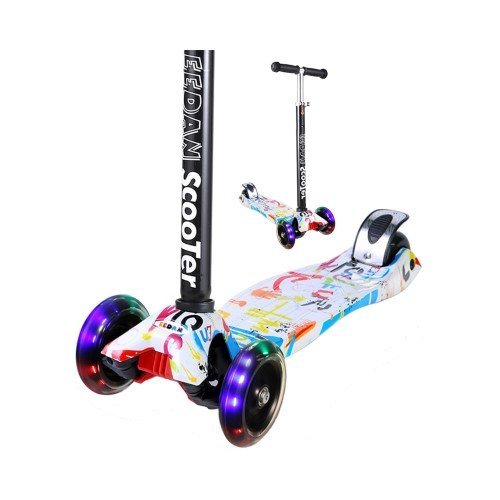 The EEDAN scooter is a stand-out model, it looks fun and it is easy to learn to ride as an extra bonus. If you have a child who enjoys toys with an edgy appearance that will have the other kids staring in admiration, the EEDAN is the perfect scooter for your family.
The EEDAN is constructed out of durable nylon composites and sturdy metal parts. It has a T-style handlebar that locks into one of three height choices. It also detaches for easy transport and storage.
Show more
Pros
Cons
Final Thoughts
Scooters are the perfect antidote to electronic games that keep children tied to the sofa. Models with PU wheels and soft edges makes any 3 wheel scooters for kids an excellent toy choice for indoors and outdoors play. When you are looking for the best 3 wheel scooters for your child, look carefully at age appropriate choices and then select one that falls within your budget.
3 wheel scooters can become a kid's favorite toy. It teaches them balance, coordination, and control. When you buy a scooter for your child, you will be opening the door to a whole new skillset and level of fun.
---
How the Top Ten Scooters Get on a Best Product List
The 3 wheel scooters are carefully selected from all the available products currently on the market. The essential criteria are:
Best quality
Highest ratings
Consistent value
We take every budget and price range into consideration in this selection, with special attention paid to cost related to high standard/value for money. There is something for everyone here to help make your decision a lot easier.
Best 3 Wheel Scooters – Buyers Guide
The chances are that you grew up with a scooter, and would like to pass on the thrill of having one to a child you know. It's a brilliant toy for playing at home and the local skatepark. Before you start to look for a scooter with your kid's favorite decals and colors, here is some helpful research that provides key takeaways in the guide below.
Scootering remains one of the most popular children's activities all over the world. As the years have passed, the wooden skateboard with handles has morphed into a carefully designed product specially selected to incorporate a kid's weight, height, size, and activity needs. Because of issues regarding safety and age-appropriate toy guidelines, every scooter on this list is at the appropriate age level. The ideal age for a child to receive their first 3 wheel scooter is two years old.
Which 3 Wheel Scooter is Best for Your Child?
For any child under the age of five, a 3 wheeled toy bike is a must-have item. When they master the skill of this fun activity, they can progress onto a scooter with more advanced features, such as those powered by electricity or a motor. Because appropriate age level scooters for toddlers and young kids have three wheels, and not two, it offers better stability. This is what learner push-bikers and kick scooter riders need until they have mastered the skills of balance and equilibrium.

That extra wheel (usually on the front of the scooter) is made additionally stable by the back wheel's extra width. Another feature 3 wheel scooters for kids can offer is a wider deck and easy-grip handles. This makes the "lean to steer" aspect of scooter riding easier for a child to learn quickly.
What is Lean to Steer?
What's the difference between leaning to steer and twisting the handles? A person's natural instinct, when faced with their first scooter, is to try and steer the deck by twisting the handles from left to right. Fortunately, a child picks up the correct way of how to steer a scooter by leaning into the direction they want the toy to go. This changes the straight path of the scooter to a gentle curve. When the rider comes out of the lean, the scooter goes straight again.

It's the leaning that determines the scooter direction, not the handlebar. If you feel that your child would benefit from learning how to balance and direct a scooter from this method, you can introduce them to scooter balance and direction skills as young as the age of two years under watchful adult supervision.
Pricing and Brand Names
If you prefer buying toys that your children will want to cherish and pass onto their own kids, then you will be looking at the top kids' toys name brands. They offer the highest quality toys with timeless features and durability. The prestige of owning a classic kids brand toy means there the price tag will always be a higher price. If you pass the toy on to your other child, this will be a good investment.
The brand is a personal choice for parent's and it's unlikely your child will prefer one brand over another. They are far more likely to like the scooter's decoration: Barbie, Disney, or the latest superhero.
Prices for kids' toys vary quite a bit. There are scooters under the $100 price tag that are really decent and good value, and there are the high-end, recognizable name brand models that will push prices well over $200. When you get into electrically powered scooters, your price range will be anything upwards of $500 for a high-quality brand name.
As a parent, you have to factor in how long you want your kids' scooter to last; whether you want it to become a valued family toy passed down to other relatives; what features it needs to have; what price fits your budget.
Kick vs. Electric Scooters
Many 3 wheel scooters have a motor and battery instead of having to move the toy by kicking off the ground. Because of the additional mechanics, these rides are heavier and in a more expensive price bracket. The target market is toward the older child, pre-teen, and teenage market.
Some of the speeds these rides can reach are enough to blow a real wind in the face, although the speed is linked to the motor power and age group for which the scooter is aimed. These are not the ideal starter scooter for your child, as it's best for them to learn the lean-to-steer mechanics of scooter steering first, before graduating to a mechanized version.
Plus, if the aim of buying a scooter for your kid is to get them outside more doing some healthy exercise, the last thing you need is for them to be standing and riding instead of pushing the scooter to move it along. Push and kick scooters are lighter, easy to handle and carry, and best for first-time learners.
Replacing Parts
If you've paid for an upscale, name brand scooter to last the family many years, you'll want to know if there's any part of the toy that can wear out over time. If this happens, you need to choose established scooter brand names that will have spare parts and warranties that can fix the issue or replace the part.
How to Choose the Right 3 Wheel Scooter
Make sure it's age-appropriate

While your kid can have a ton of fun riding on a scooter, it makes it much easier if the toy is ride-ready from the get-go. Not many children enjoy receiving a gift that they have to grow into or don't have the skills to learn for a while. This means you have to choose the most appropriate scooter for your child at the start.

There are seven basic styles of scooters, they range from the most basic kick and ride 2 and 3 wheel decks all the way to electric motorized vehicles that you see teens and adults riding along the promenades and sidewalks. If your kid can't wait to put a scooter on their Christmas wish list or if you want to surprise them with one, make sure you get one completely age-appropriate.
Scooter Types
2-Wheel Scooters (4 – 12 years):
This style scooter has only two wheels and is more suitable for older kids who have already developed a strong sense of balance. However, if you have a young child who has no experience with riding and balancing, they will become frustrated with the challenges a 2 wheel scooter presents them with.
When a scooter has two wheels, it is capable of faster speeds. The deck of a 2 wheel scooter can also hold heavier weights as they are usually made out of metal materials, and not plastic. This makes them more durable and immune to rough treatment.
If your child is between the ages of five years and eight years of age, and have at least one year of 3 wheel scooters play under their belt, then a two-wheel scooter is a perfect choice. If your child has turned their scooter activity into a serious outdoor pursuit, you may even want to look into a more advanced model.
3 Wheel Scooters (2 – 5 years):
Even some adults feel more secure when their motorized scooter has three wheels. That extra wheel makes balancing so much easier. This is why the three-wheel scooter is the go-to choice for learners, toddlers, and young children.
The most recognizable 3 wheel scooter model is the one with two wheels in the front of the deck and one wheel at the back. This triangulation of wheel spacing has been proven to provide ideal stability, and the design accelerates learning to balance faster.
Children generally feel safer on 3 wheel scooters. This is thanks to the wheel placement causing the scooter to go slower. Obviously, as the child grows up, they will gain the confidence they need to want to go at faster speeds. This is why it's such a good idea to buy a scooter that can be passed down to other kids in the family.
The decreased speed, in addition to the stability provided by the three wheels, makes this style scooter the best first-time push and kick toy for small kids.
Caster Scooters (4 – 10 years):
A caster scooter is the same as 3 wheel scooters, only with the wheel triangulation the other way around: the two wheels are at the back with only one wheel in the front (the same wheel position as a tricycle). Caster scooters have rear wheels that are further apart in spacing. This allows the deck above them to be used as a footplate.
A caster scooter is operated differently from the kick and ride style used for two and 3 wheel scooters. The caster is shifted from side to side by the rider, similar to the motion used to slalom ski, and this moves the scooter forward with the weight shifts. The caster is not a trick scooter, nor is it for scooter newbies and beginners; it's a design that spans the weaving motion used for slalom and lean-to-steer practices used for scooters.
Pro Scooters (5 years – Teen):
This is the model used for tricks and stunts by experienced and older scooter riders. It includes features such as extra-wide handlebars and high-quality deck materials.
Off-Road Scooters (5 years – Teen):
These models have a close resemblance to proper bikes. They have chunky tires to handle rough terrain and a sturdy build.
Electric Scooters (7 years – Adult):
The popular choice for beach-facing promenade pathways and quiet suburban streets, you can see adults enjoying electric scooters every summer. They are not a good choice for young children to use because they are heavy and can reach uncomfortable speeds. Also, if the whole point of having a scooter is to have time outside in the fresh air with exercise, then an electric scooter is not a good idea at any age.
Scooters for Toddlers (2 – 4 years):
Any scooter made for a toddler should have two wheels in the front for stability and to help them balance. The model you choose should have fairly stiff handlebars as this will prohibit sharp and sudden turns. Having rigid handlebars that make twisting from left to right is actually better at teaching little ones how to lean instead of turning the handlebars. When a scooter is being kicked forward, if the handlebars are turned, it can make the scooter wobble. A stiff handlebar allows a toddler to learn "lean to steer" faster.
The scooter base or deck must be low to the ground and built to withstand repeated contact on pavement bumps and small steps. The toy must be lightweight in case of drops and falls, but also durable enough to handle active use. The key feature to look for in a scooter for toddlers is an adjustable handlebar height. It allows you to loosen the bolt that keeps the handlebar at a set level and raise or lower it according to the size of the child who is using it.
Features to Look for When Buying a Scooter for Your Child
In the old days, scooters were crafted in garages and tool sheds out of wooden crates and broken roller skate wheels. It's a lot different today with so much research going into the safety of moving toys and stronger materials.
Brakes:
Some scooters have brakes, and other models encourage the child to learn how to use their foot to slow the scooter down.
Self-assembly or Completes:
Do you have to assemble the scooter when it arrives or is it delivered ready to use?
Kick Scooters:
The archetypal traditional scooter when the child propels the model by kicking.
Wheels:
Check to see the wheels are suitable for the intended terrain; the bigger the wheel, the greater the stability. However, when a scooter has chunky wheels, it will be harder to push along and propel with a kick.
Folding:
If you like to travel with toys for your children, a folding scooter is a good choice. It also makes it easier to tidy away under a bed or pack into a closet.
Steering:
The two ways of steering a scooter are (1) when the handlebars are held straight across and the scooter is pushed forward with a kick, and (2) when the direction is changed by leaning to the right or left.
Age and Weight Range:
Scooters can take a wide range of weight standing on the deck. Depending on the age of the child, the height and weight limit on the scooter you buy for them correlates to their skill level.
Scooter Features for Toddlers:
Kids under the age of four years are still learning about motor skills and coordination. Any very young child or toddler loves the challenge of propelling themselves along on their own. Push toys have been a best seller for so long because kids find them so much fun.
Between the ages of 2 and 4 years old, the only model scooter for a toddler is a 3 wheel one. The most popular scooter types are the ones that help the child gain the greatest degree of skill with the most confidence: three wheels is what does this. The toddler gets the support he or she needs from the 2 wheels in the front, and a wide back wheel makes the deck feel level and accommodating.
Once your child has gotten used to how the scooter is balanced, they can move on to learning how to steer and lean. It helps if the scooter has soft, easy-grip handlebars for them to grip onto without little hands slipping. Mastering the steer technology of a scooter is what will help your child gain the maximum amount of confidence and expertise.
If the scooter you buy has an adjustable handlebar that moves the handle height up and down, you can afford to spend a bit more on the scooter as it can grow with that child and pass down to another smaller family member when your child moves on to another model scooter. The T-bar can be moved up and down according to how confident your child is with the bars' reach.
As a matter of safety, always check that the T-bar is not set at the same level as the child's mouth. The handlebars of a scooter should always be comfortably under the face and slightly lower than around shoulder height.
More on Scooter Safety Equipment
Protective safety gear is a good way to introduce your kid to the topic of scooter safety in general. You can show them where every piece goes and which part of the body it's meant to protect. Safety is the number one concern of parents and the manufacturers of kids' toys all over the world. Technology and testing are very advanced to make sure every item is secure and safe.
Scooter parts are attached firmly and very sturdily made, whether it is for the toddler or the teenage age group. No mishap will happen from any scooter structure or part. Strict manufacturing guidelines are in place to make sure every child's toy adheres to these rules. There are, of course, some name brands that are more trusted than others, but this is more related to durability rather than to the safety of one scooter make over the other. Never allow your toddler or young child to learn how to ride on a scooter without a protective helmet. They might even feel a bit safer, in the beginning, wearing pads on their knees and elbows as well.